RR 2019
Ok, well… let's start the yearly wrap up Ride Report at 12:01am January 1, 2019. I was in South Carolina, no wait, North Carolina, no wait… I was hopping between the 2 states. I was at Carowinds to ring in the New Year.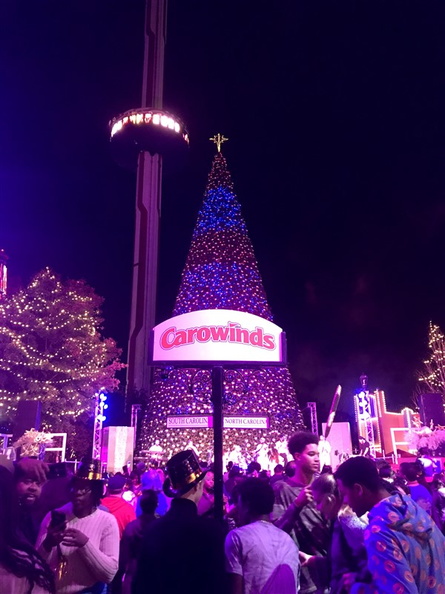 On the way home, swung onto the Blue Ridge Parkway for a bit. Not on the bike, but still enjoyable.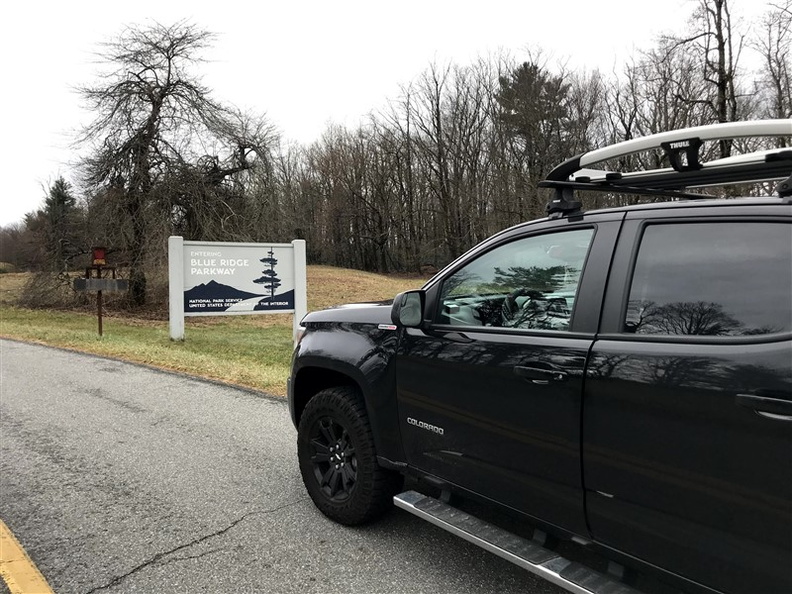 And luckily not on the bike… because then I found MUD!!!!
Saturday, January 19th… town gets a big snow storm. The county goes into Level 3 lockdown, and so dad and I take the boys sledding. It's fun to be a kid again and play in the snow.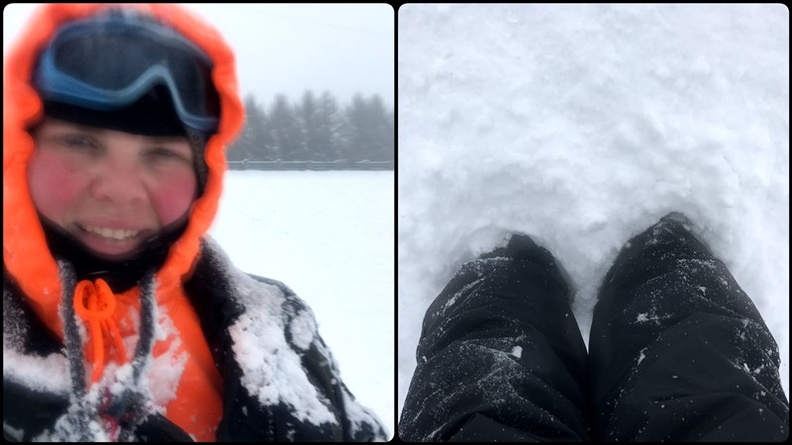 By the time the work week rolls around, the roads are somewhat passable. And the truck is proving how wonderful it is!!! So much nicer to drive in the snow compared to my old SUV thing.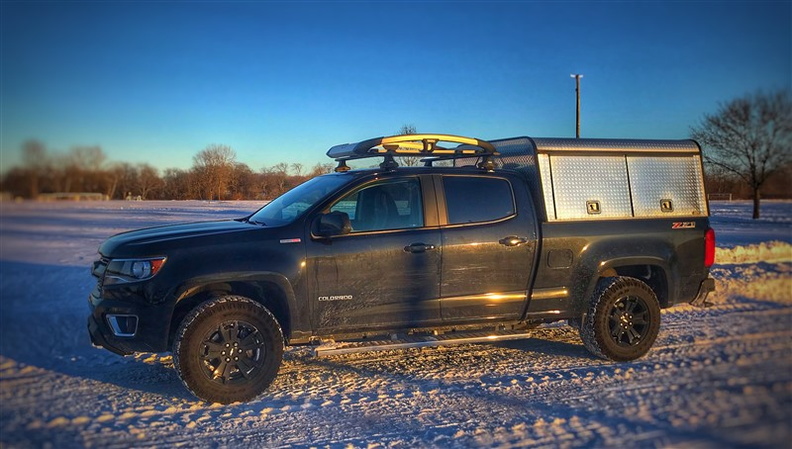 February, and my parents and I go to an RV show. Pretty fun to walk around and dream. This cute little toy hauler had me realistically dreaming! Just the right size for my truck and 1 bike.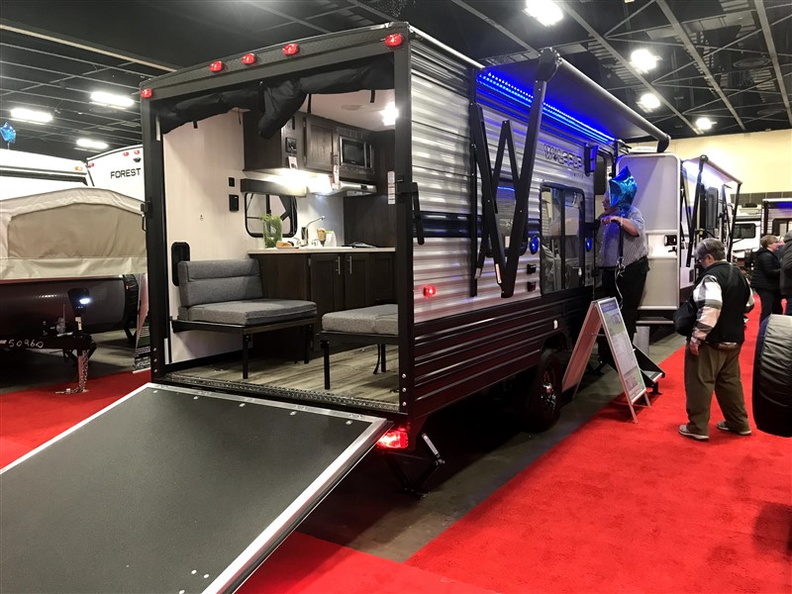 Working a lot during the winter months, and also went up to Cedar Point for a behind the scenes tour.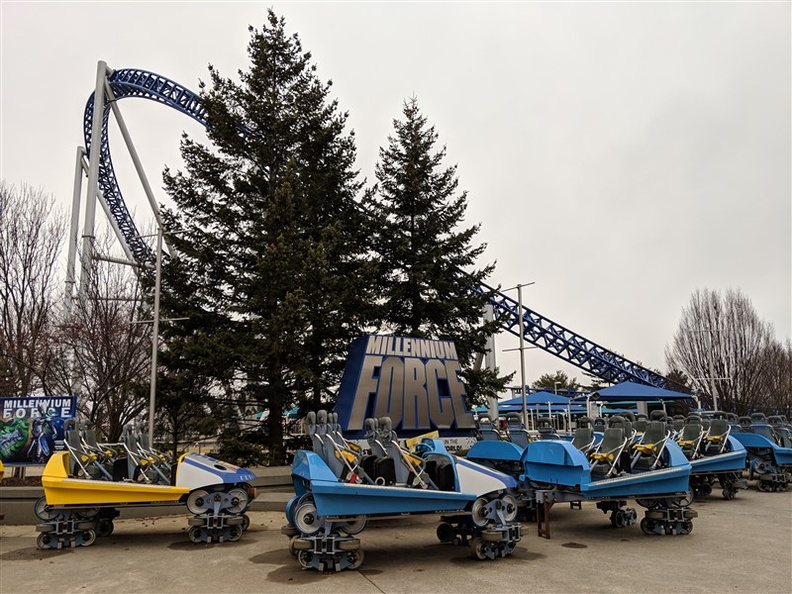 Went skiing in March with my sister.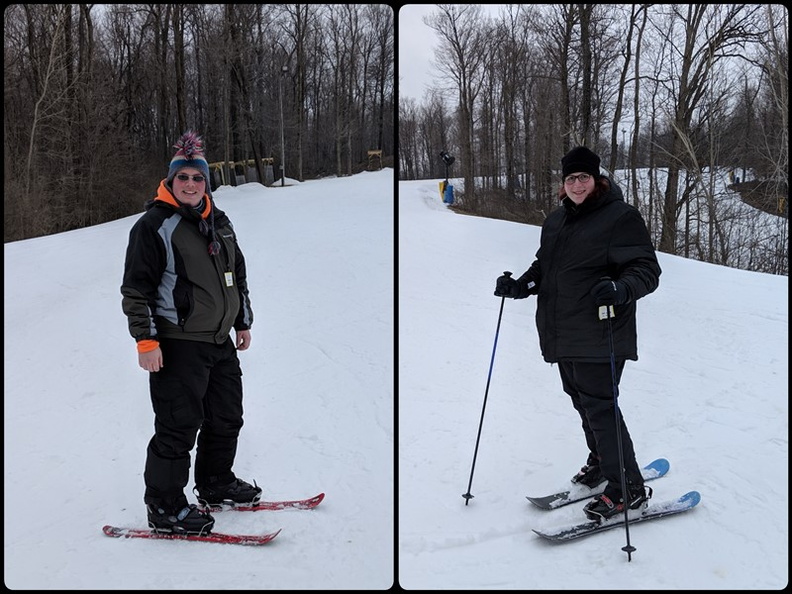 March 30th, and we get a snowstorm.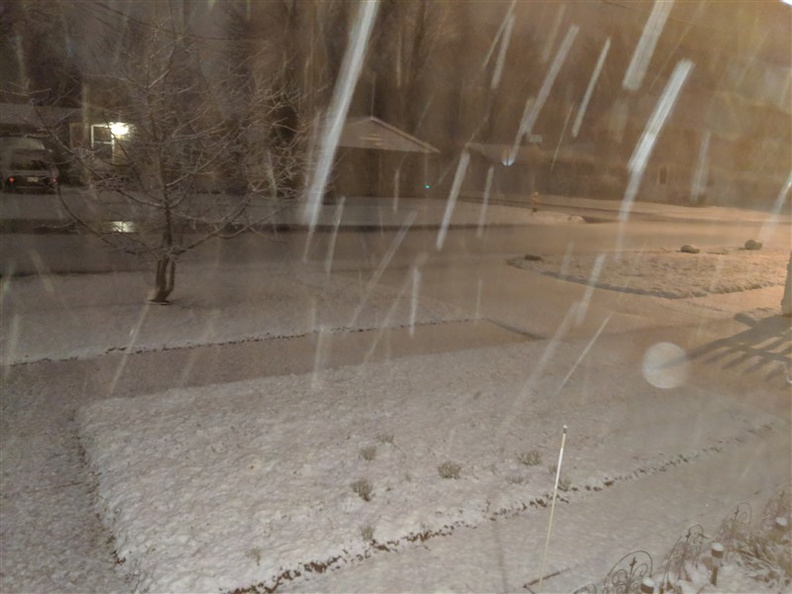 Luckily it was clear and melted 2 days later- Monday, April 1. First time getting the FJR out of the garage this year. Dang.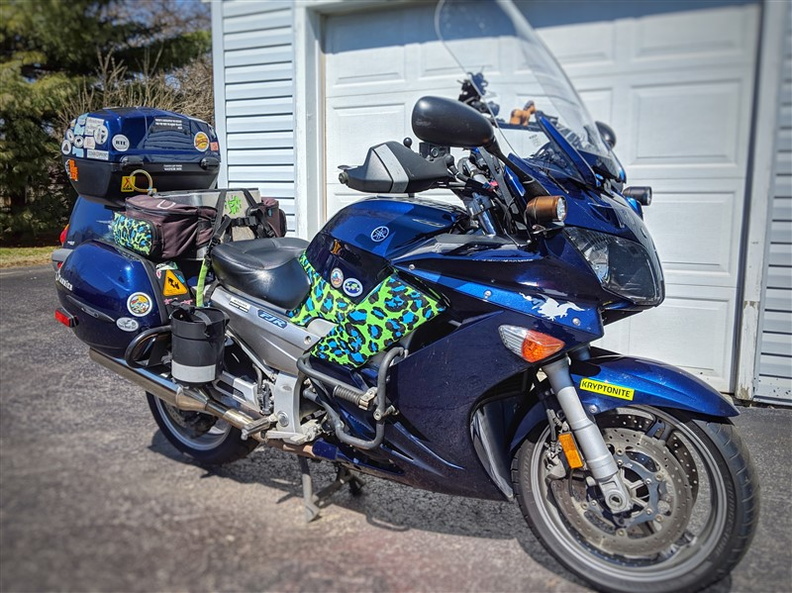 And by Friday I was on the road and headed to southeast Ohio. Meeting up with Dave and Nate. Dave sold Nate his FJR, so I went down to hang out and then ride with Nate for a bit.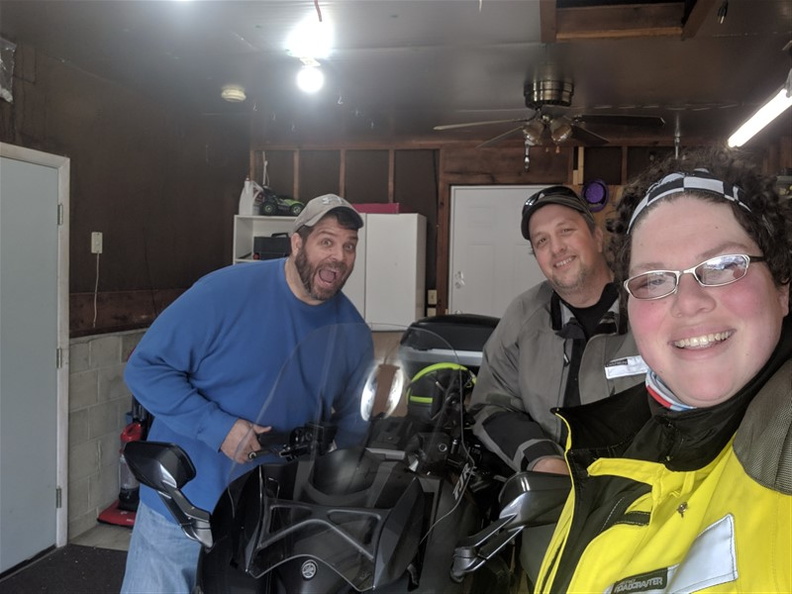 Read about it here…
First ride; It's been awhile
Big Muskie Bucket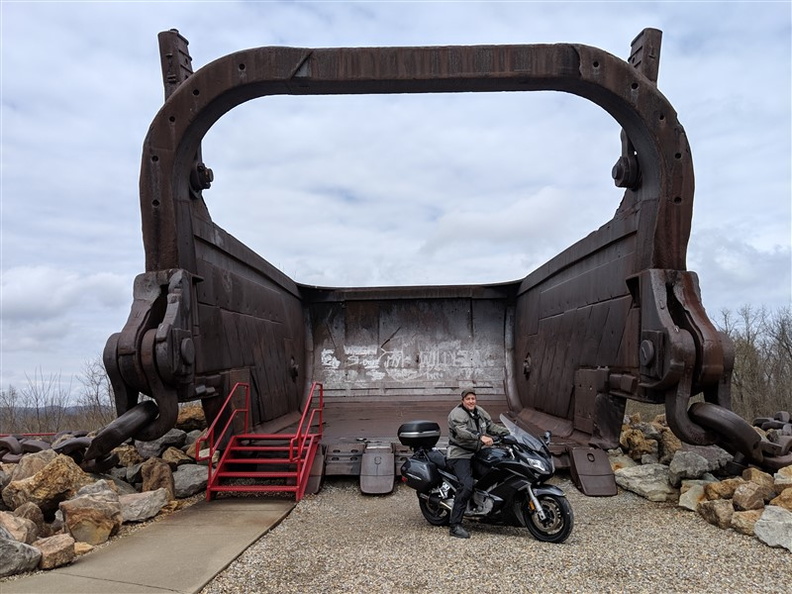 Iron Pony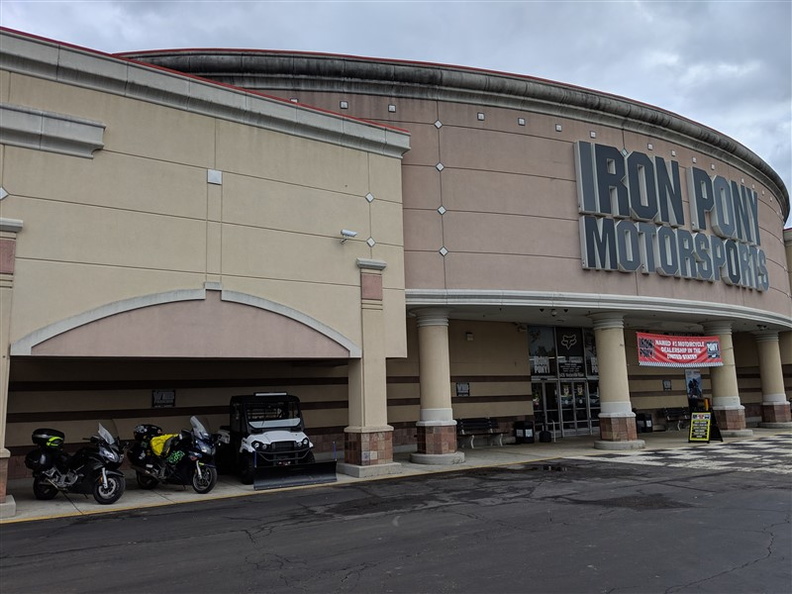 Then Deal's Gap/Tail of the Dragon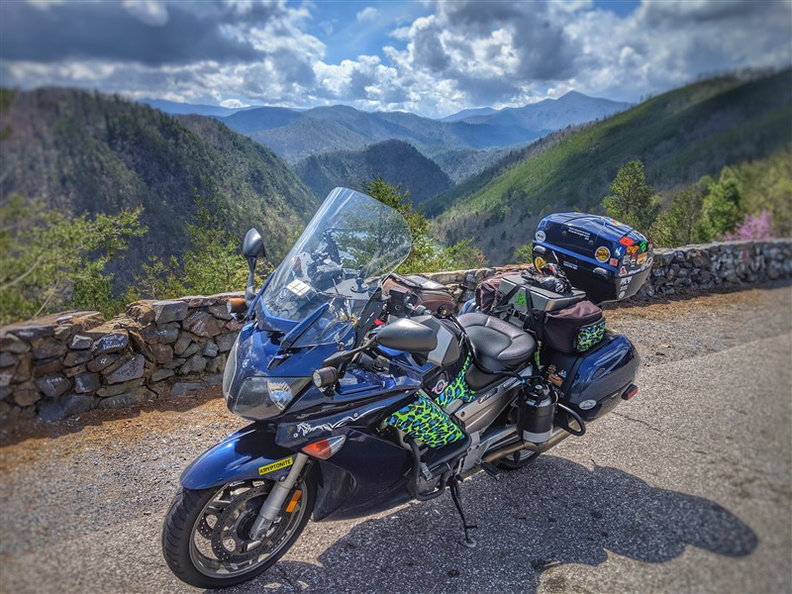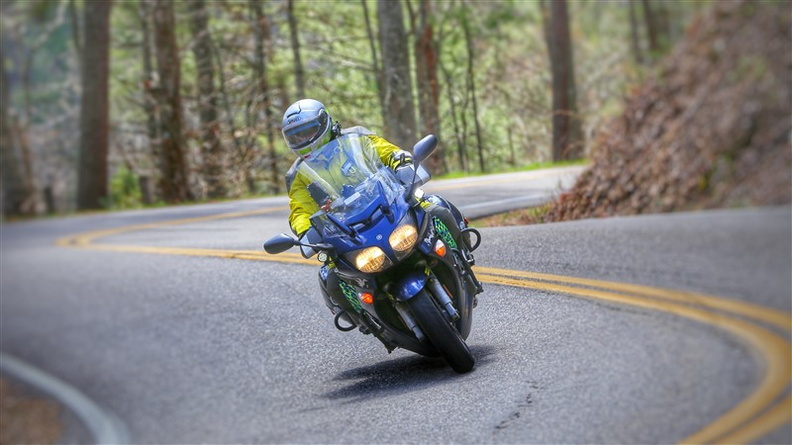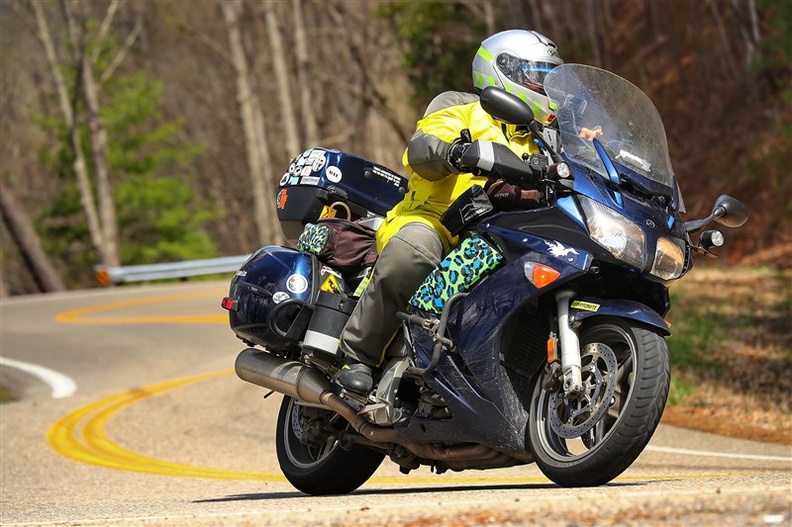 Cherohala Skyway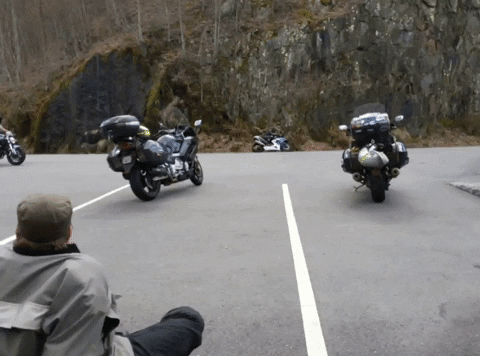 Next weekend and I am in Columbus, working at a horse show for a vendor. We had fun.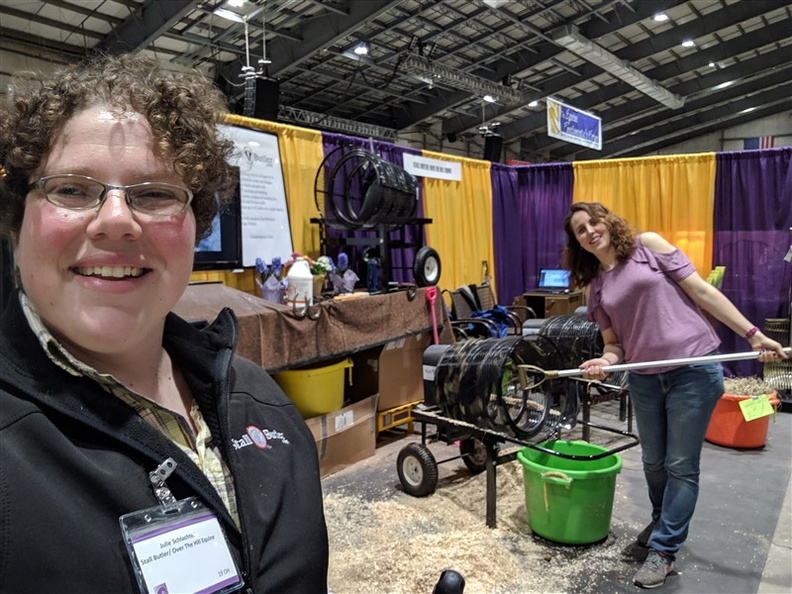 And horses are amazing! The human connection these horses had to their trainer was fabulous. One horse layed down, and 3 of them sidepassed over it. And the rider/trainer stayed mounted the whole time. Wicked awesome.
Guy McLean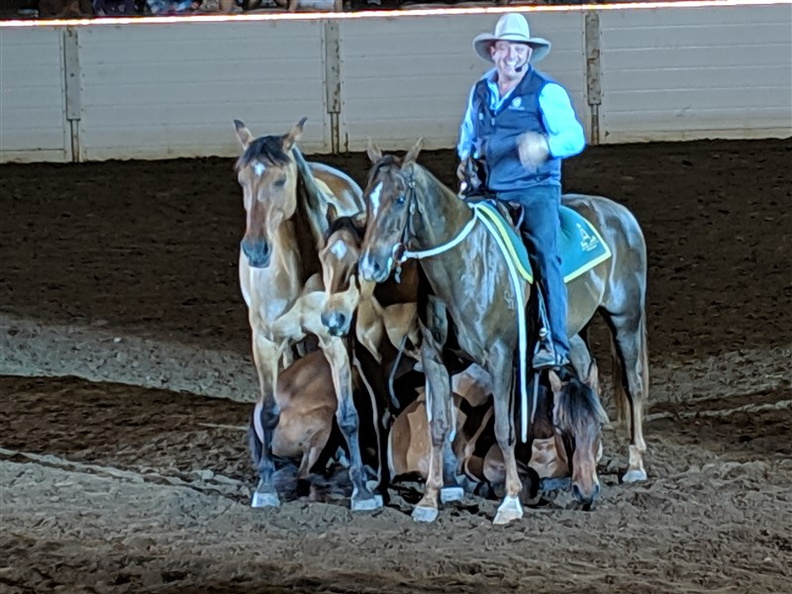 End of April and I put a new tank bag/box on the FJR. It's solid, on a quick release ring, and powered for sena hook-up and extra USB. I'm liking it.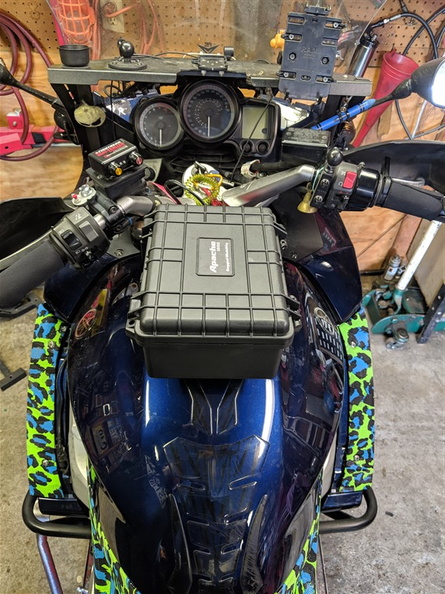 Beginning of May brings us the SEOhio Ramble.
Read the RR here…
Ramble; Roads, Rain, and Riffraff
New River Gorge Bridge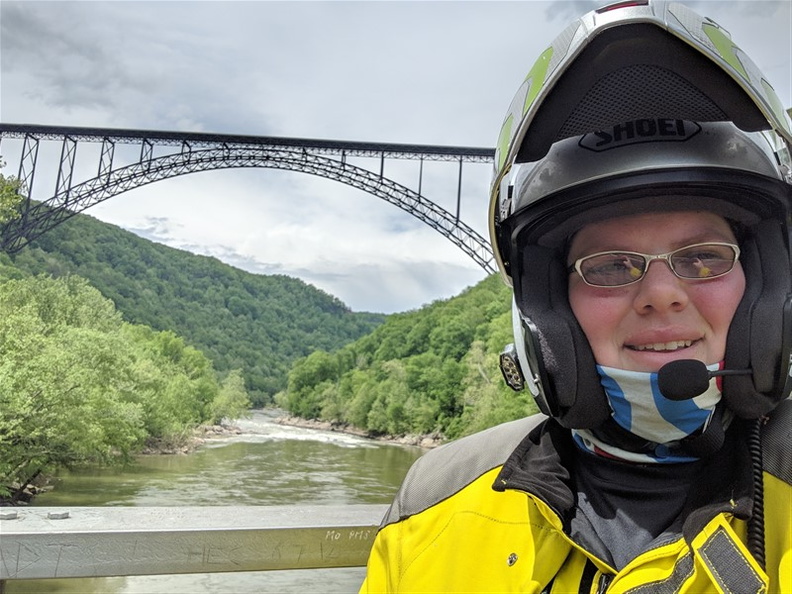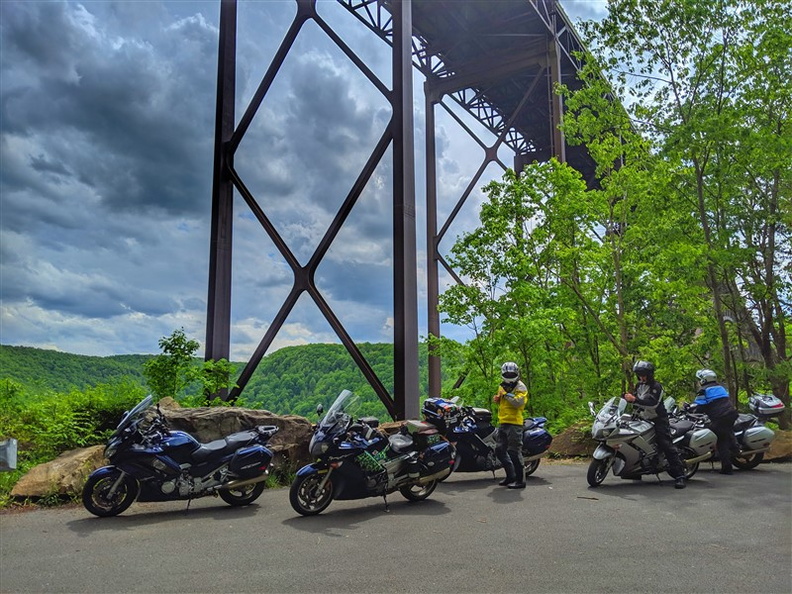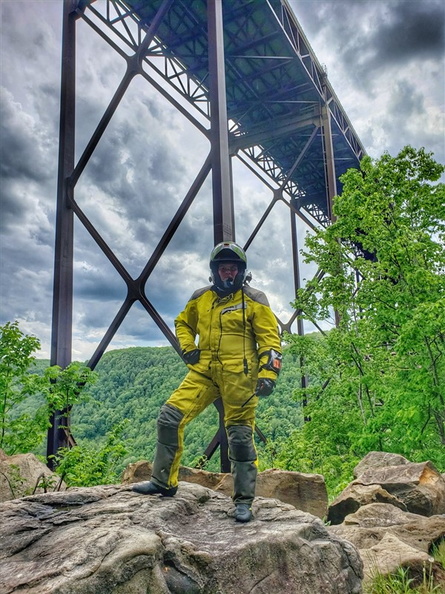 Covered Bridge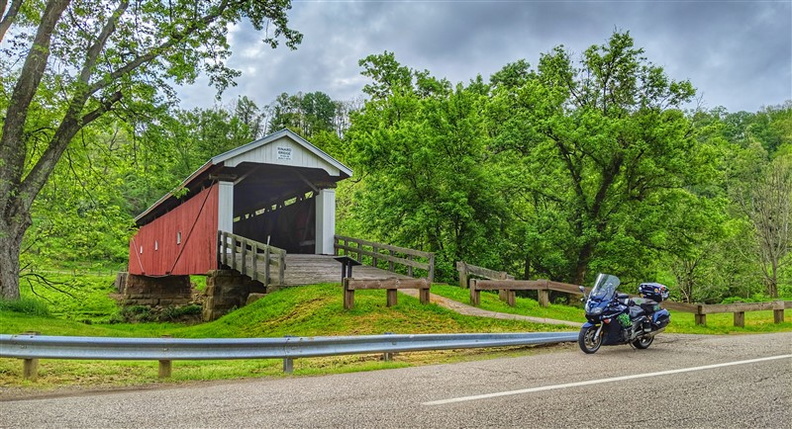 Ohio's Smallest Church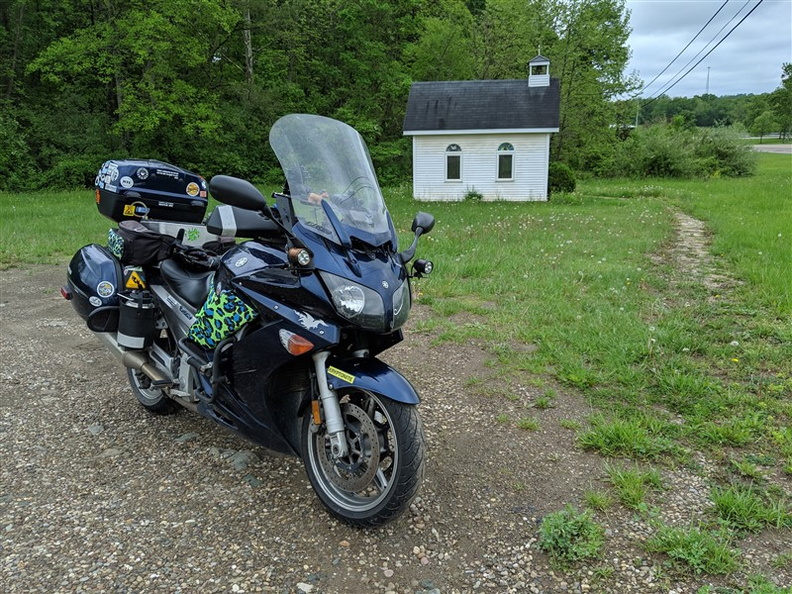 Riding with friends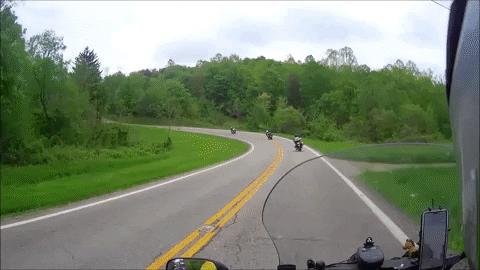 1925 U.S.S. Shenandoah Memorial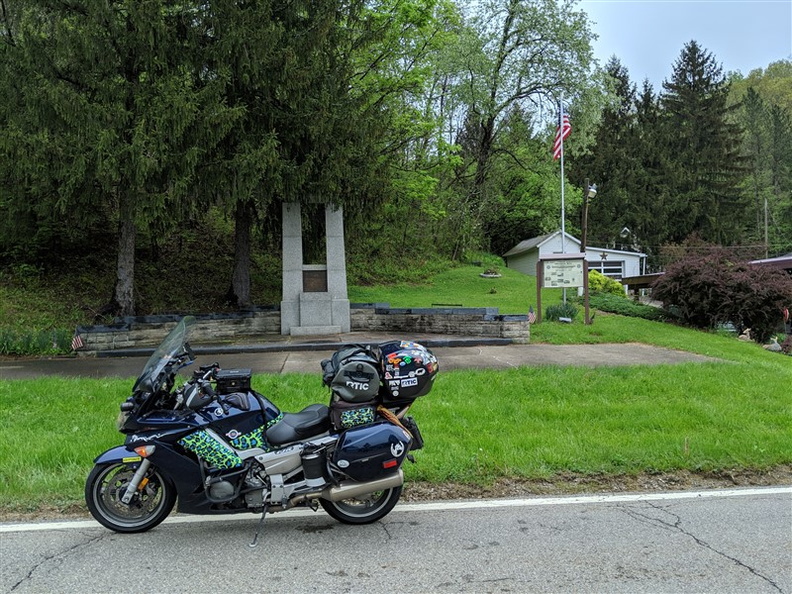 A view of my favorite interstate in Ohio, from above…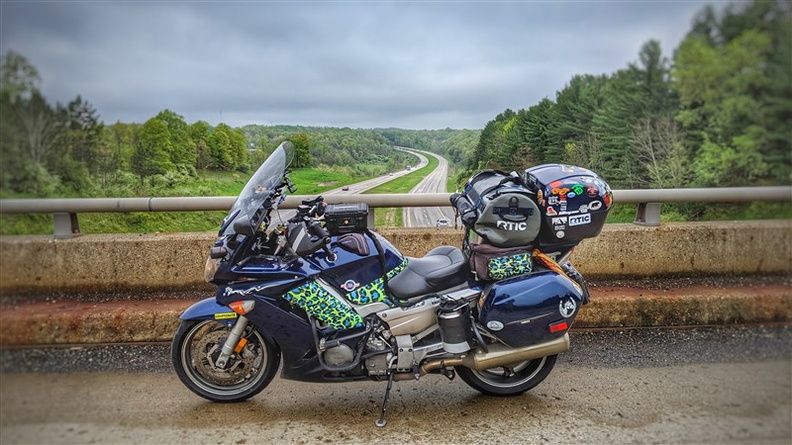 The following weekend, went on a Mother's Day Weekend ride with parents, grandparents, aunts, and friends.
Dublin corn field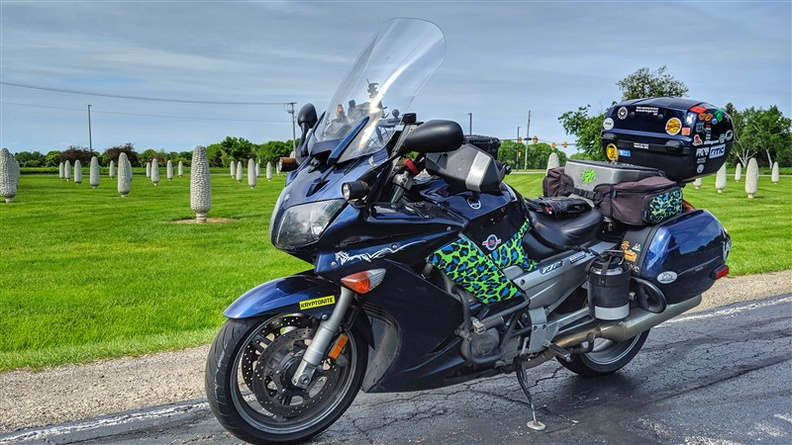 Hugging a cob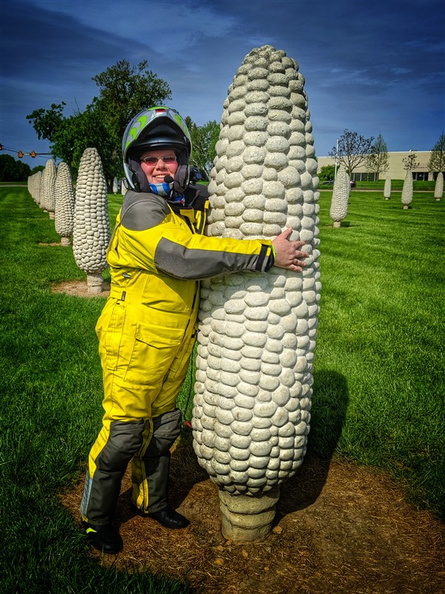 First of June, NY Tech Day. Forks got done. Hoverbike!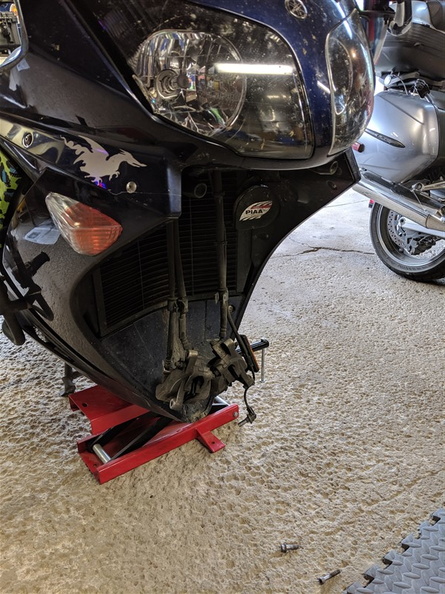 These 2 were working hard while I was watching…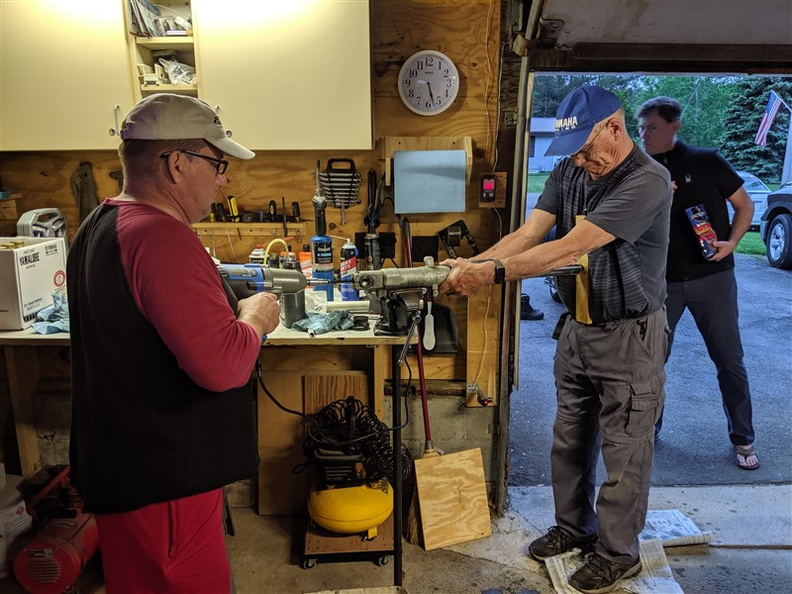 A good turn out on Saturday!

Pretty bikes…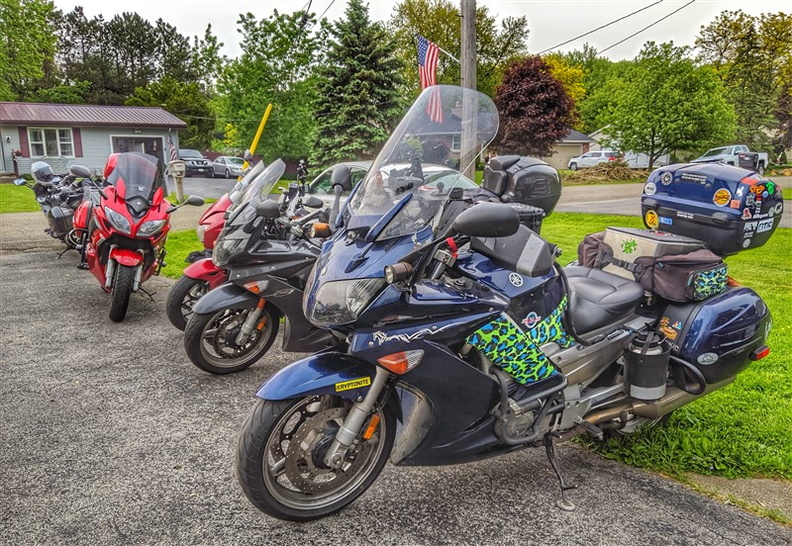 On the way home from NY, I swung by the ranch I used to work at in PA. Good memories from that place and arena…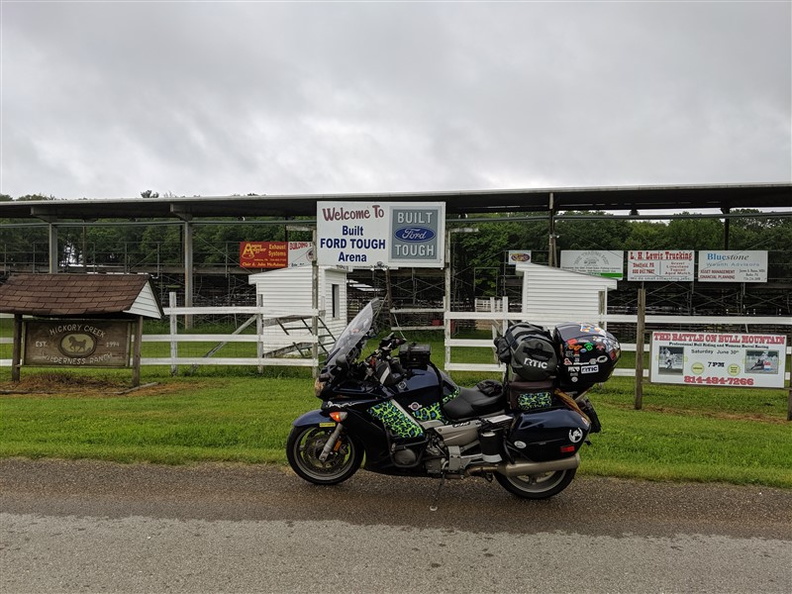 You meet REALLY cool people wearing an Aerostich!!!
Like Elsie here, whom I met at a truck stop in Ohio. A spry and sassy 72 year old French-born woman with an amazing past and so many stories to tell!!! She was 1 week into a 5 week trip that will take her through 48 states. I could have stood there and talked to her for the entire day and night and the next day and the next day and the next.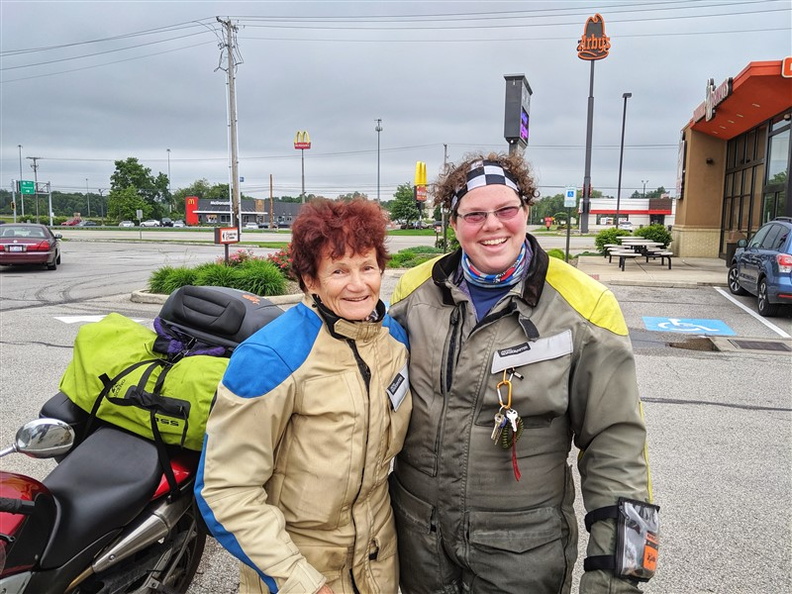 Did a bit more working…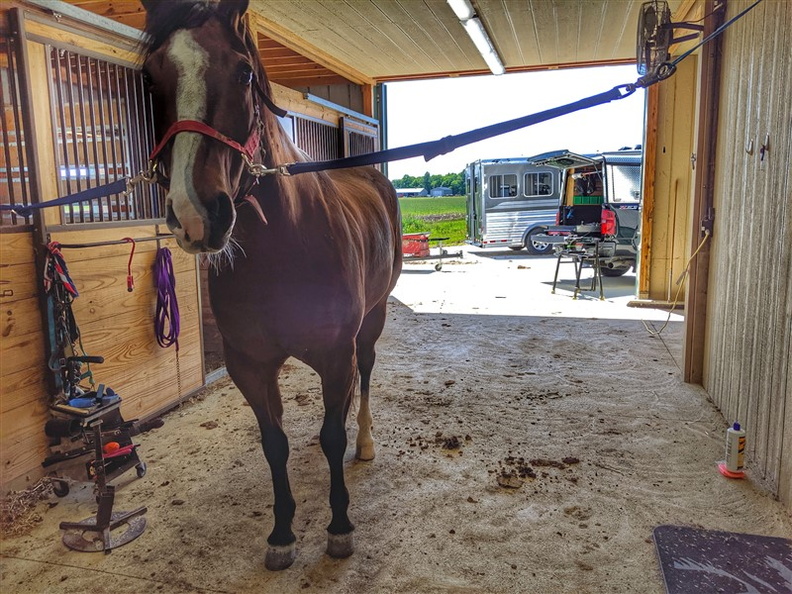 And then it was off on the next adventure!!!
Dreaming with my eyes wide open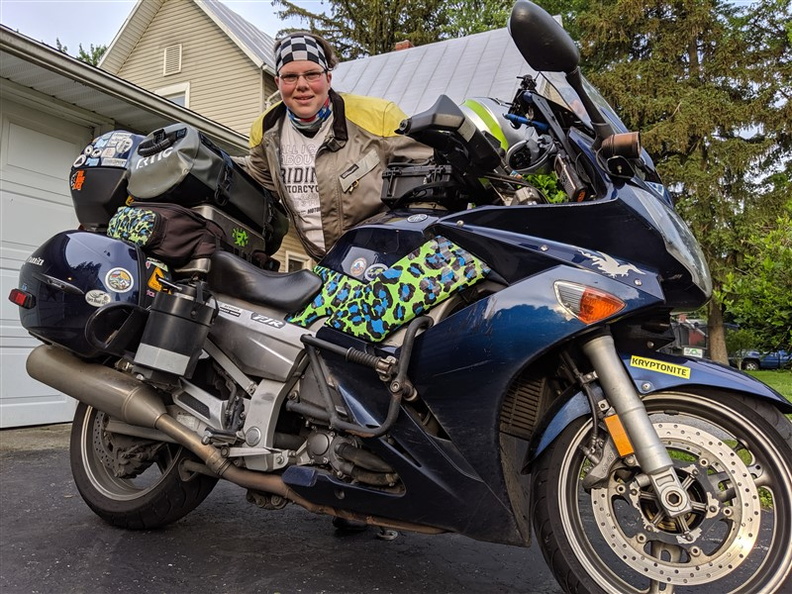 Colorado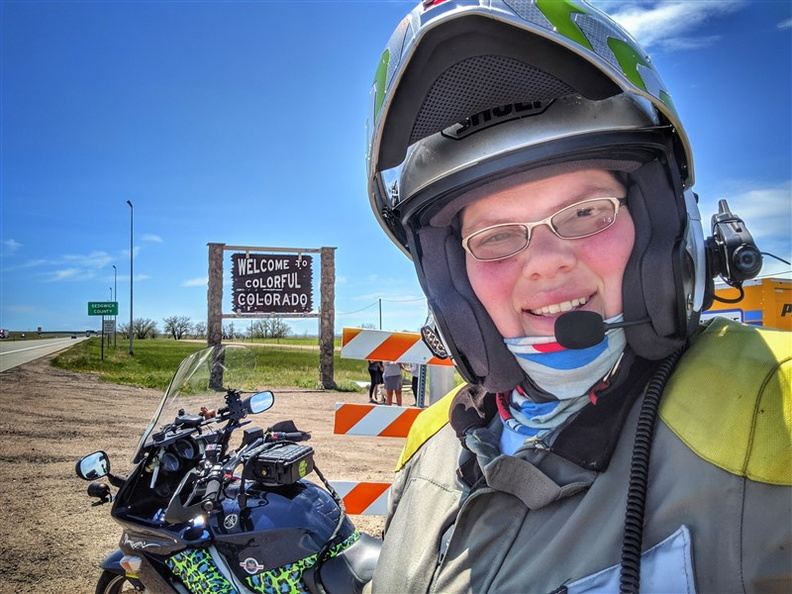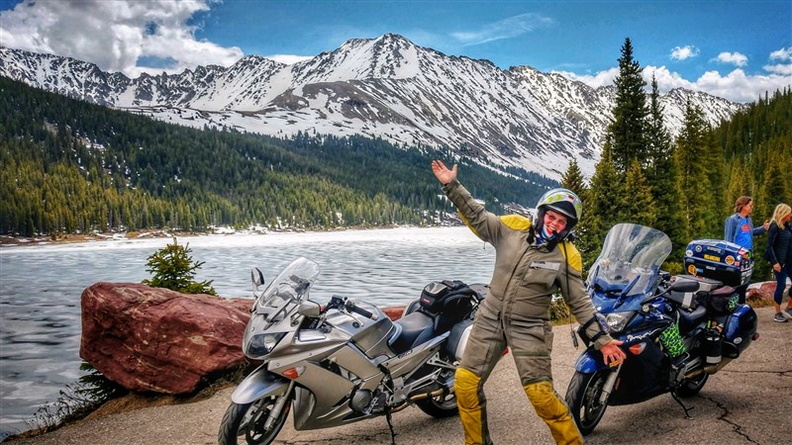 Celebrating my 30th birthday on the top of a mountain in Colorado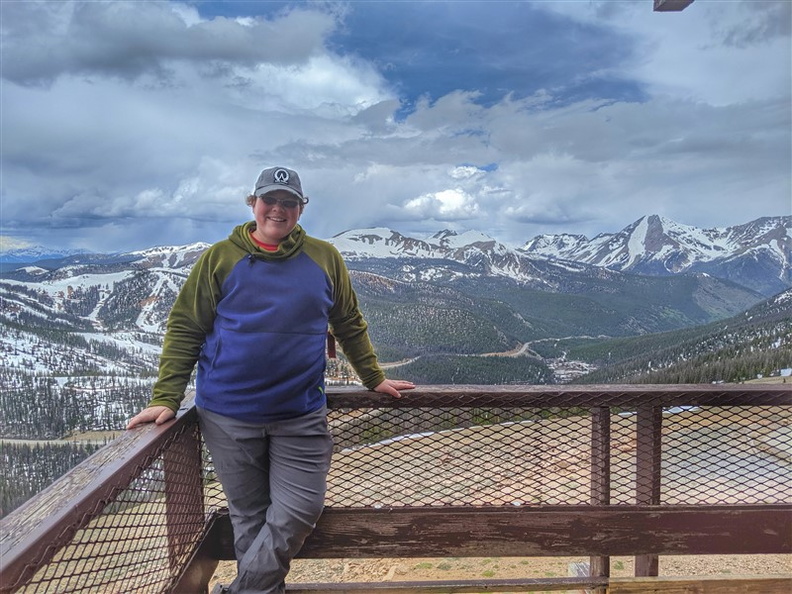 Riding with Tim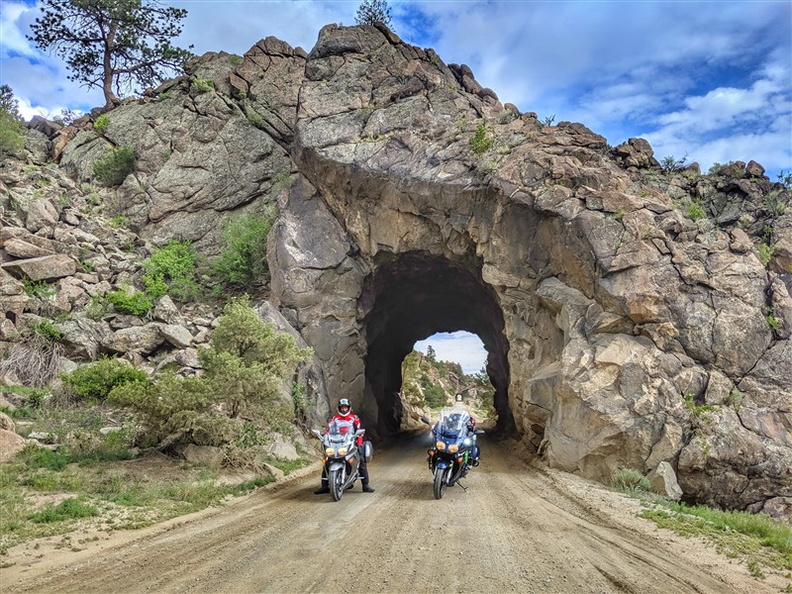 Eating delicious food!!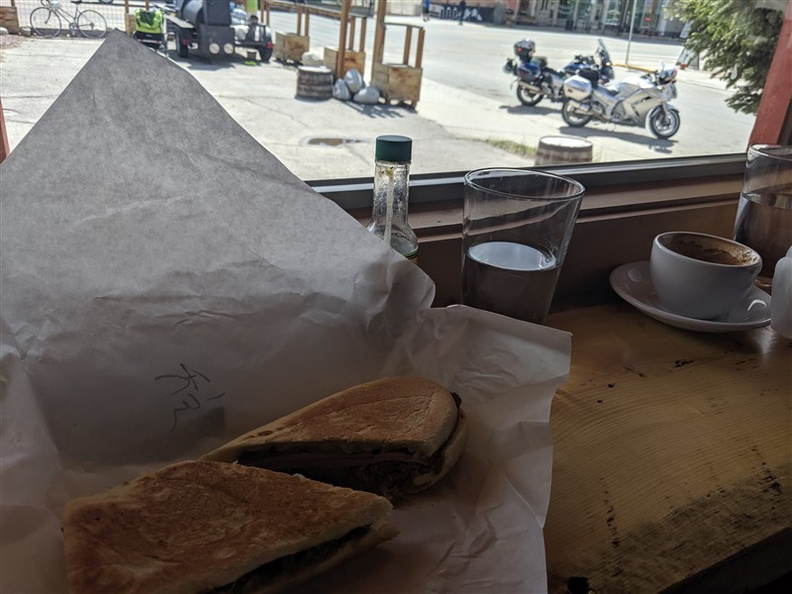 Snow covered mountains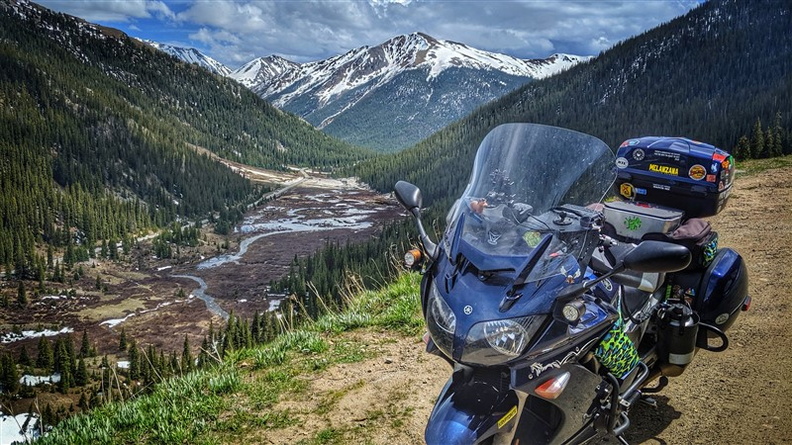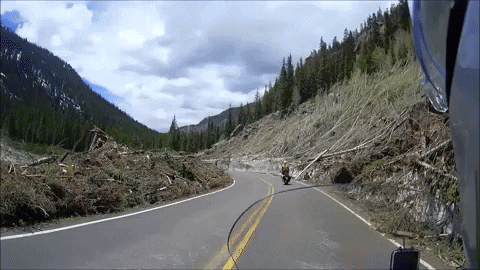 Soul rejuvenation!!!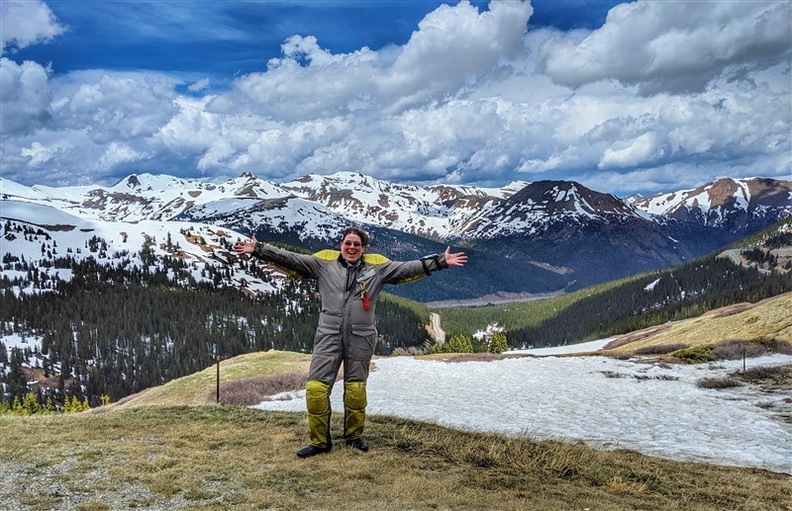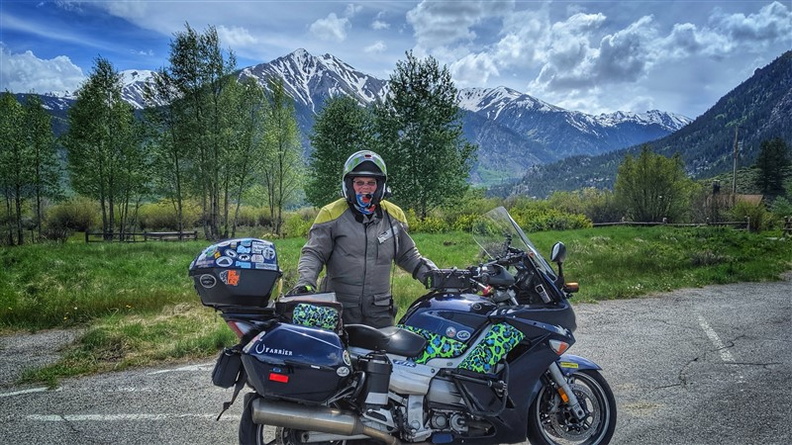 And finding Tyler on the way home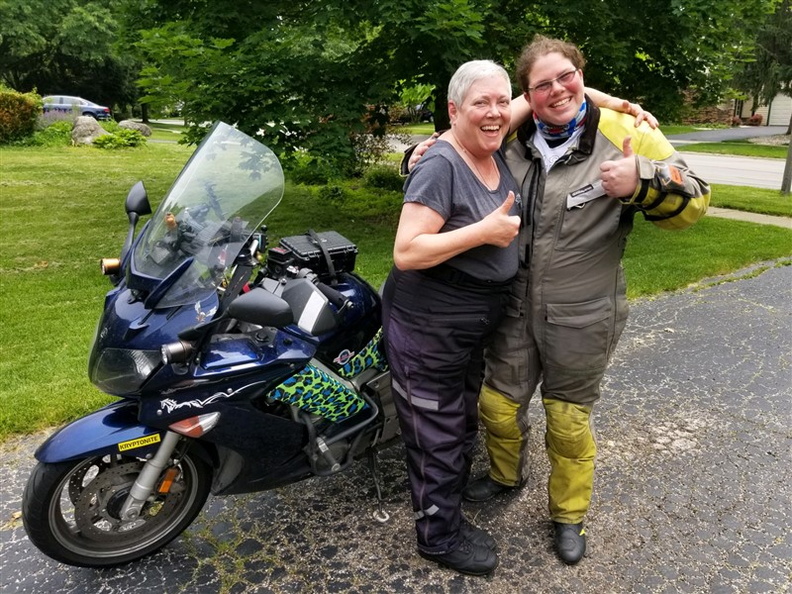 Weekend after July 4th, I took off and visited my favorite motorcycle superstore…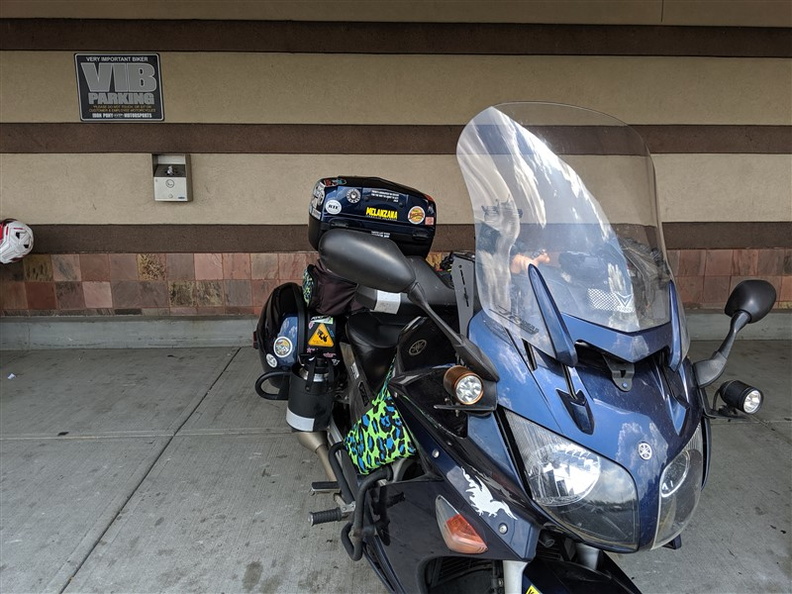 And played around in SEOhio.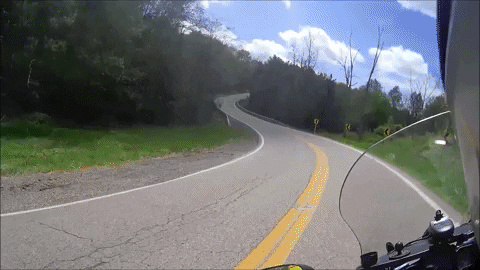 Big rainstorm came through in the late evening.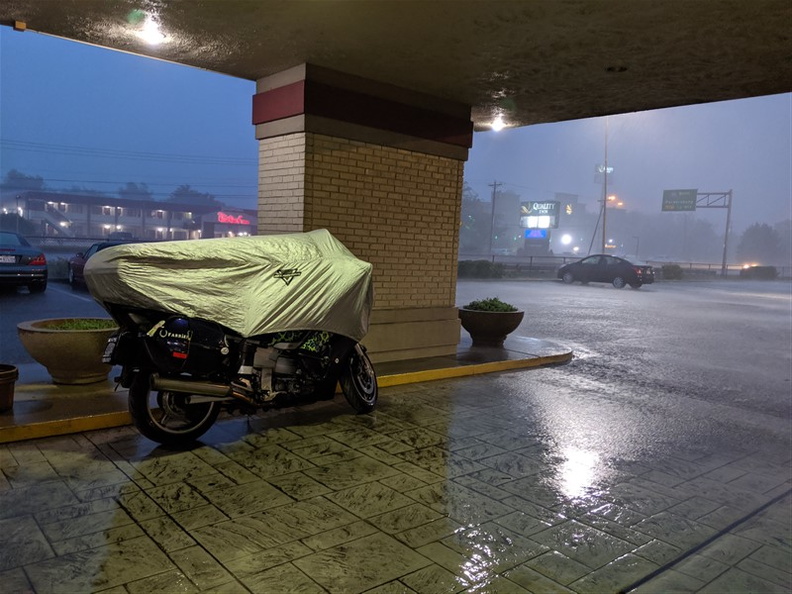 Mike and Wanda called me up mid-July and said they were passing through my town, wondered if I could meet up for lunch. Yes I could!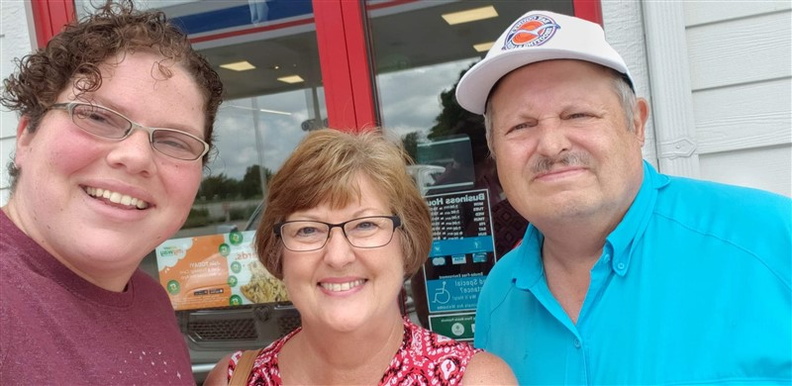 And then, end of July… and I decided to get myself a new toy!! Suzuki DR-Z400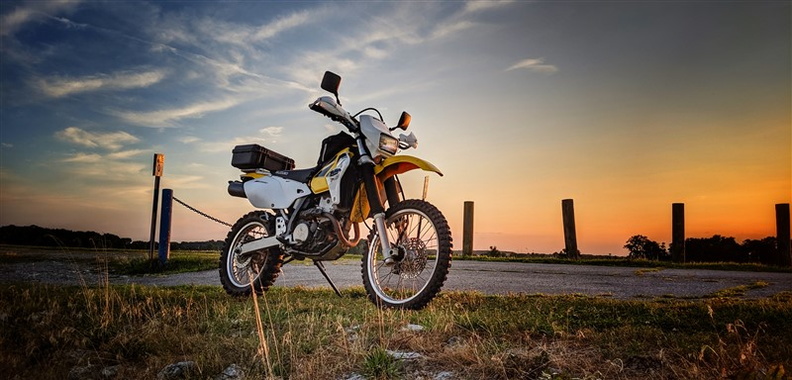 Then walked in a parade with a bunch of my horsey clients.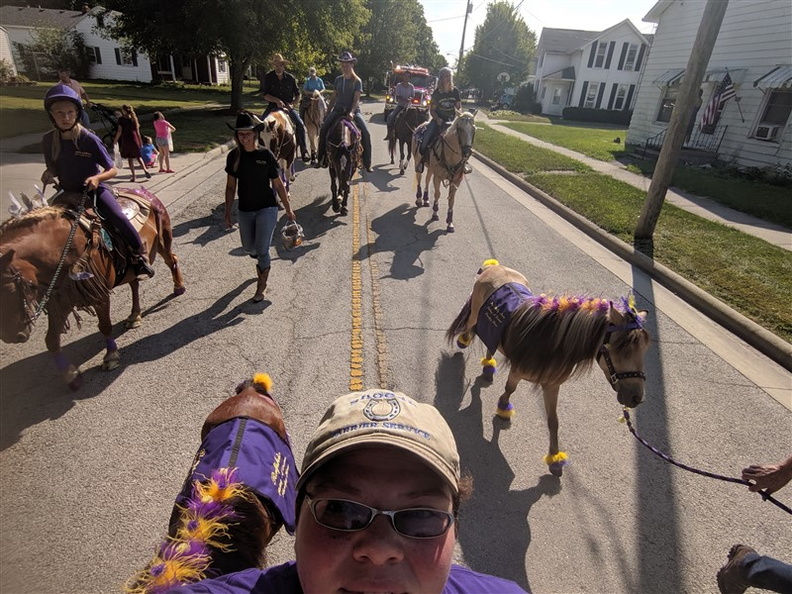 That leads us into August, and we jumped on the dual sports and went hot air balloon chasing. Dad, sister, me each rode a bike, and we each had a nephew with us.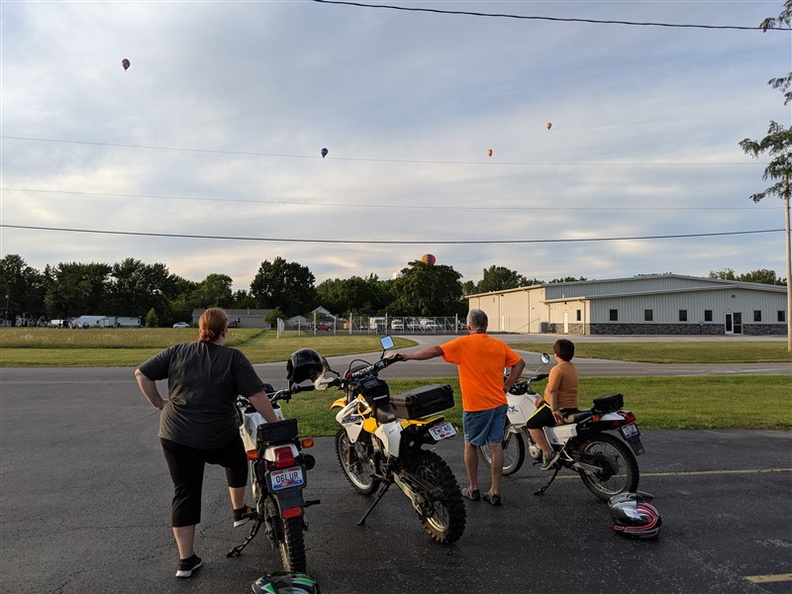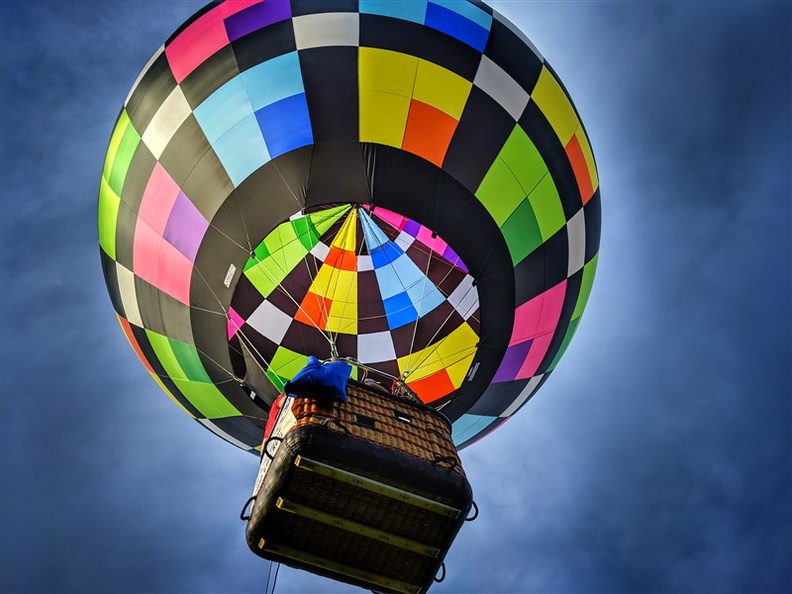 On a Sunday in August- ride to dinner with my folks, we ventured into the county and found Party Road. A mile long strip of empty road that is known to be graffitied.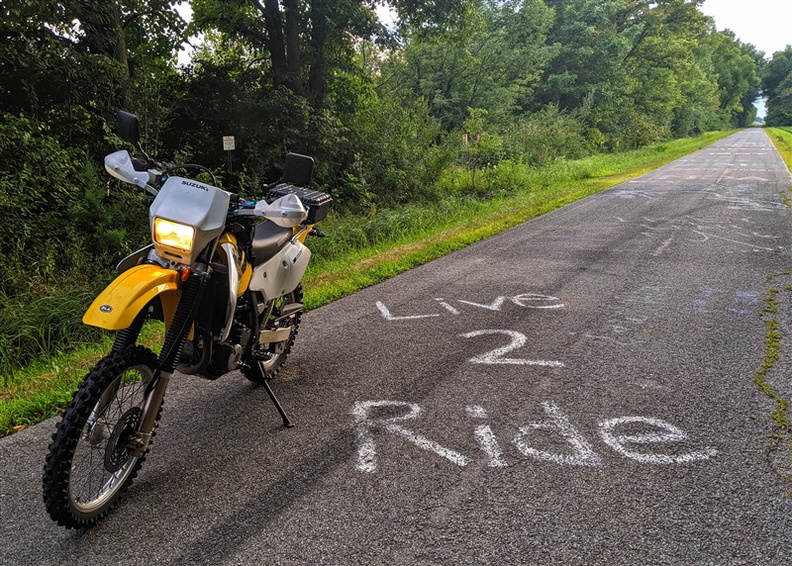 And then after dinner we sat by the interstate and watched all the Nascar race buses and trucks head south from Michigan International Speedway.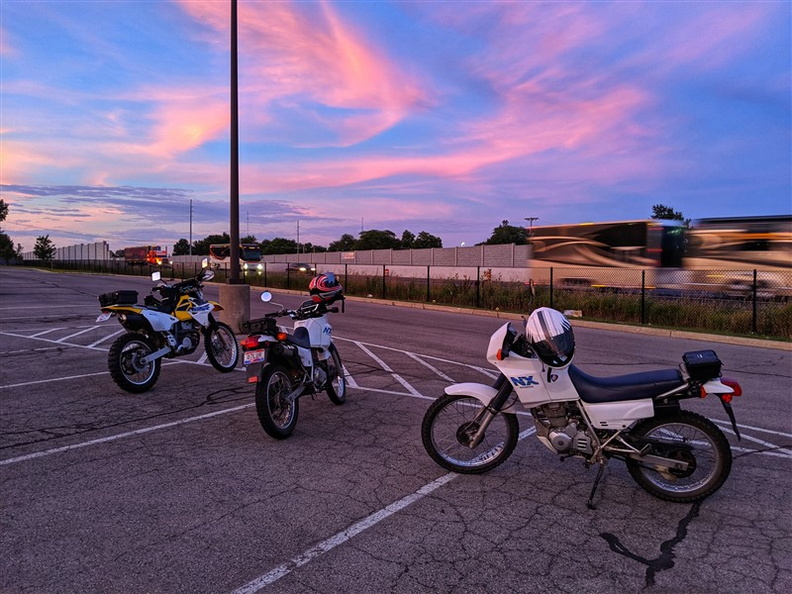 Doing a bit more working…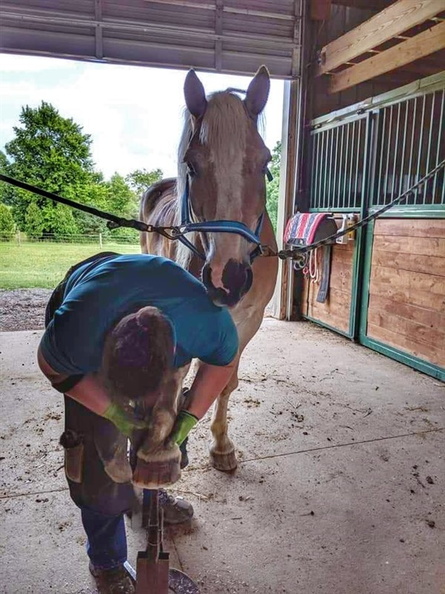 Invested in a hitch hauler for the new bike…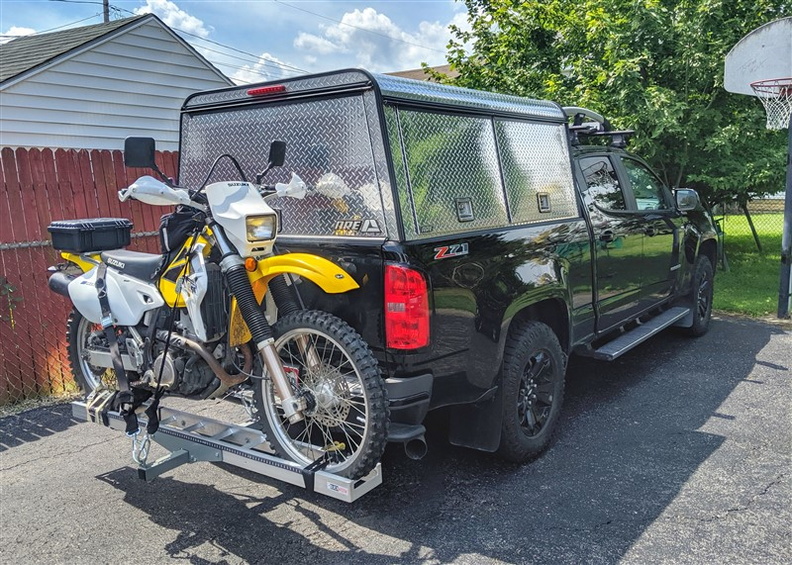 Found some muddy trails on a friend's property….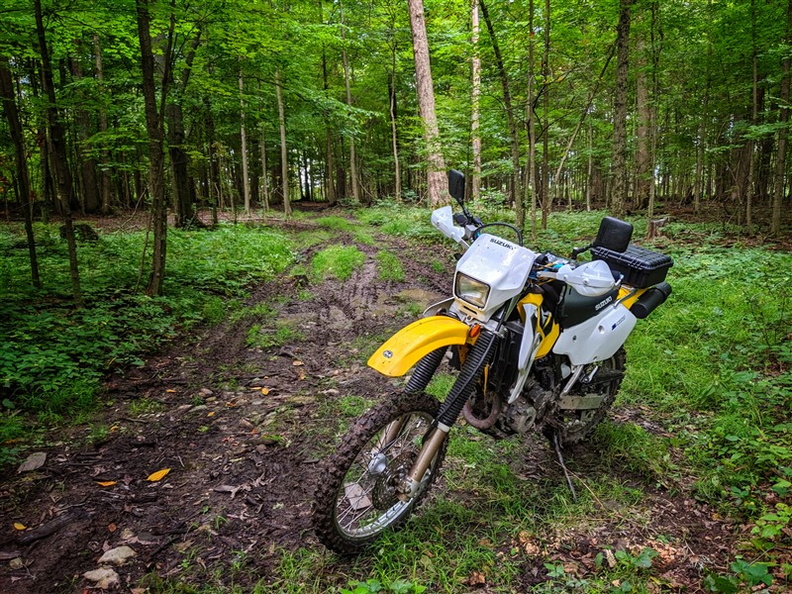 Rode the FJR down to Iron Pony, to do some shopping.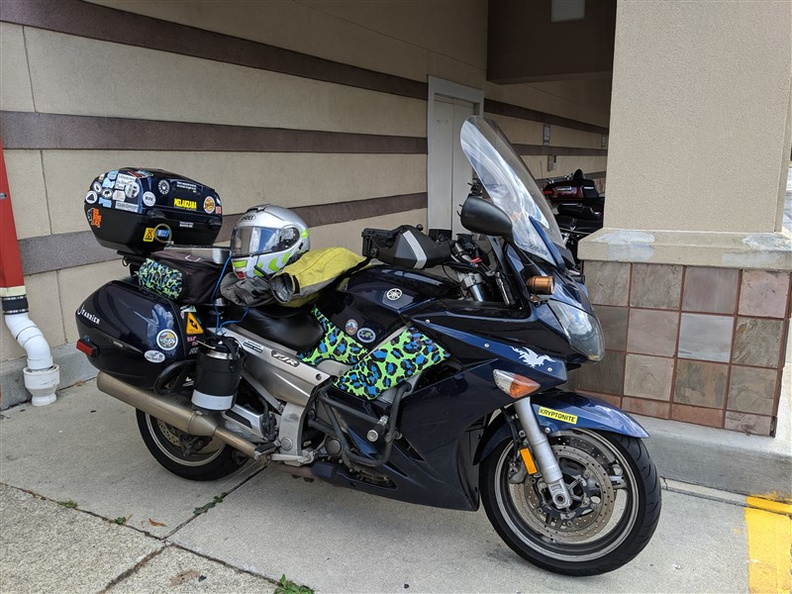 And get a bologna sandwich on the way home…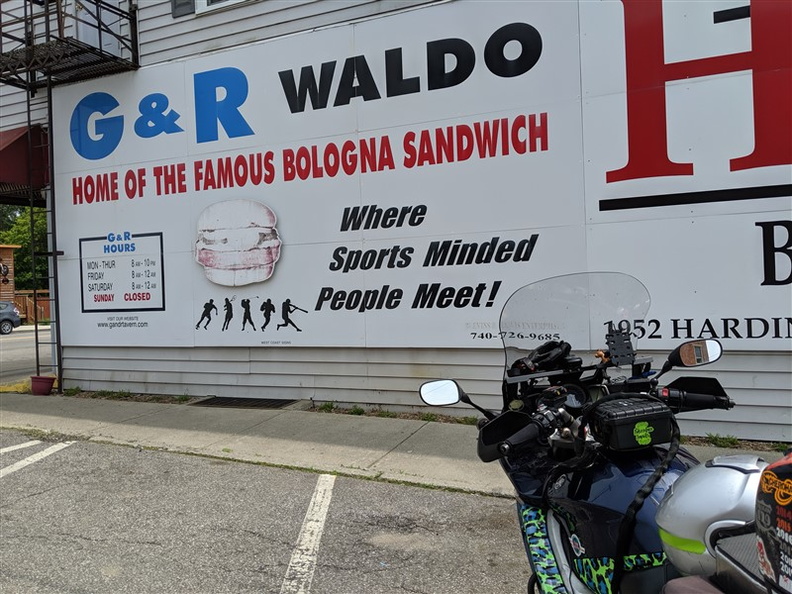 Later in August- I was out riding the DRZ, and met up with my parents, who were spending the day at my uncle's house with the nephews. Teaching the 2 older ones how to ride the little 50. It's the same bike I learned to ride on!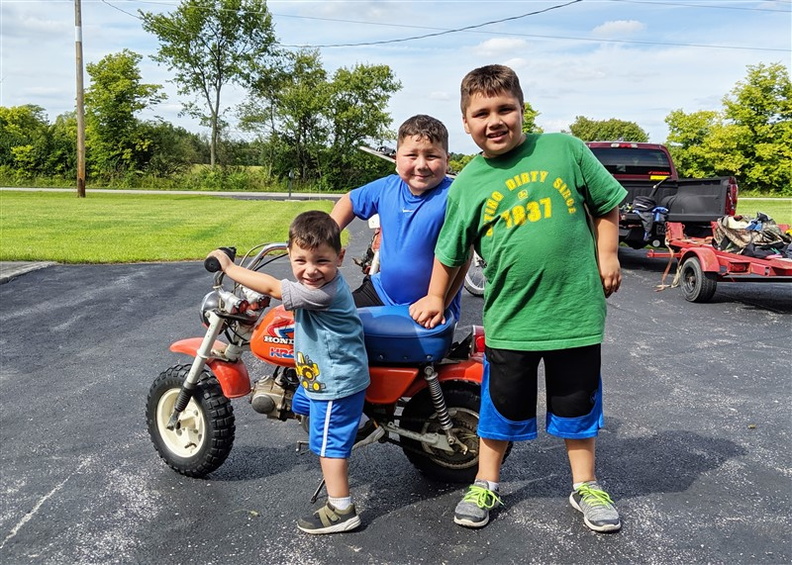 Grabbed the littlest nephew to ride down the street to watch the tractor in the field…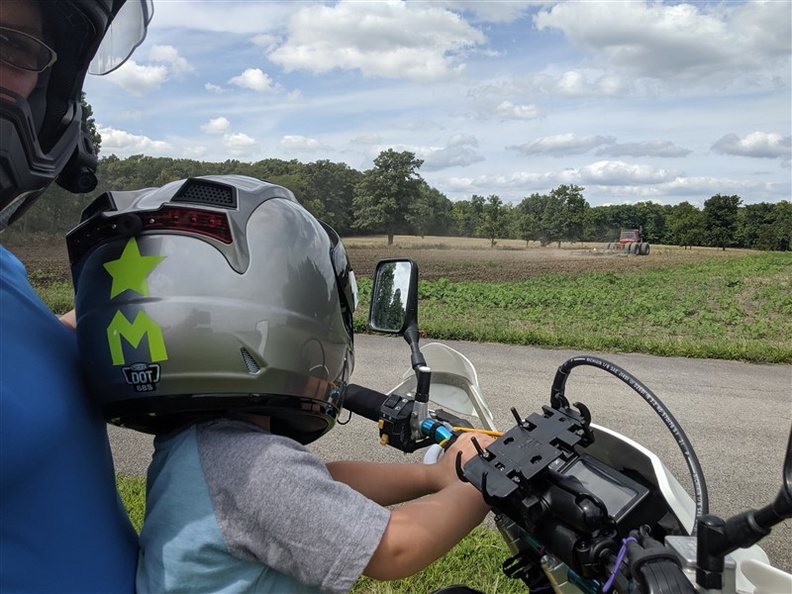 Then it's Labor Day weekend. And that means it is Fair time!!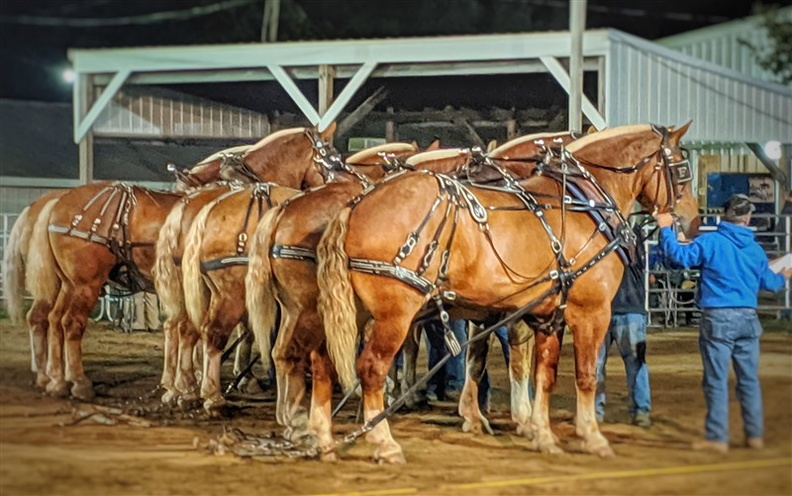 And the following weekend I went to Cedar Point with my parents and 2 nephews. Got our passes issued for next year!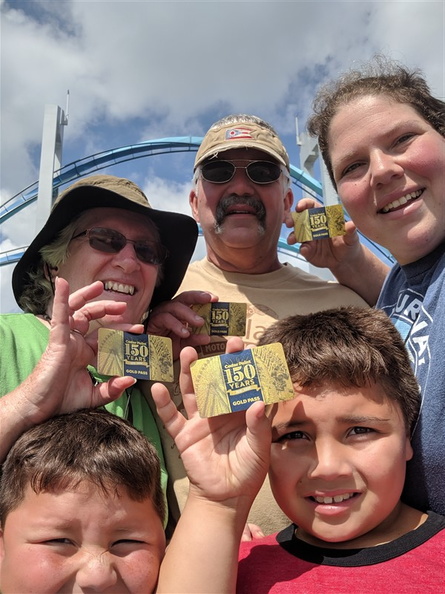 And of course, rode a couple rides…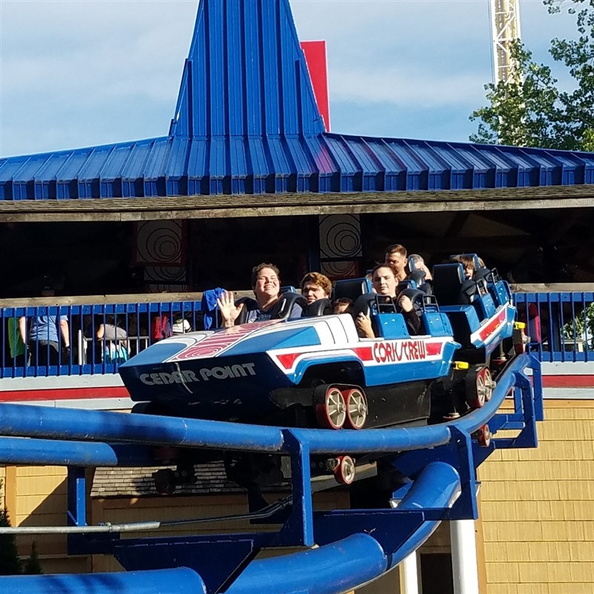 And then I was itching to get the DRZ off pavement. So I talked my dad and uncle into grabbing my parents' dual sports and going with me to the Mohican area and riding backroads.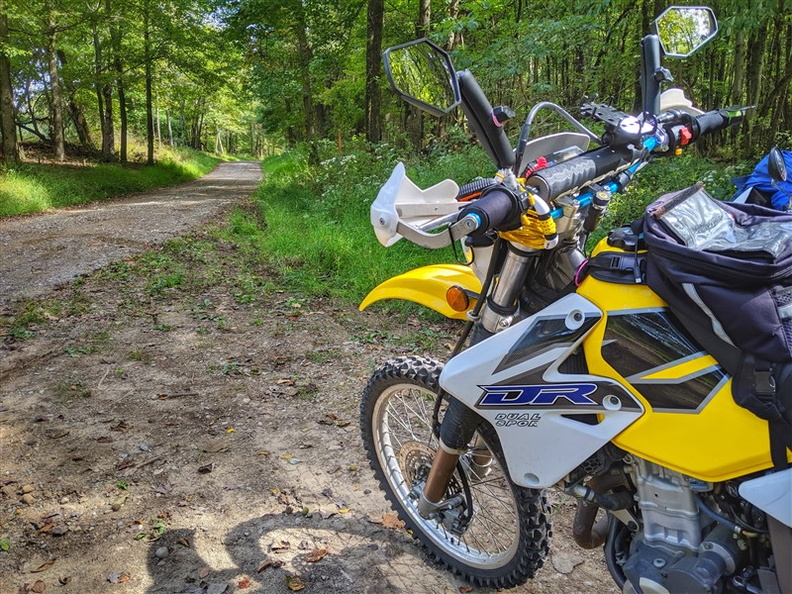 I know I had a lot of fun! I think they did too…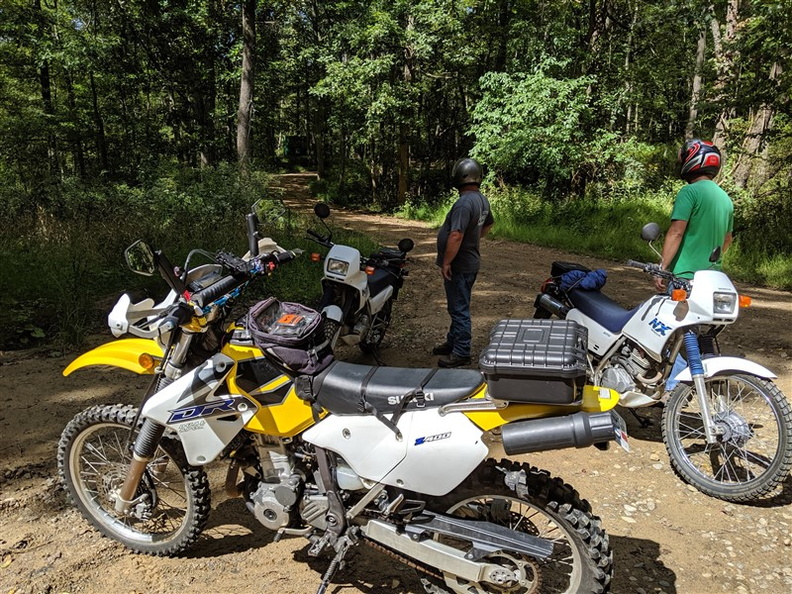 And the next weekend it is time for EOM in Maggie Valley, NC. I took a scenic detour on the way. Found a gravel road. I didn't freak out this time on the FJR. I think riding the DRZ has made gravel a bit more okay feeling.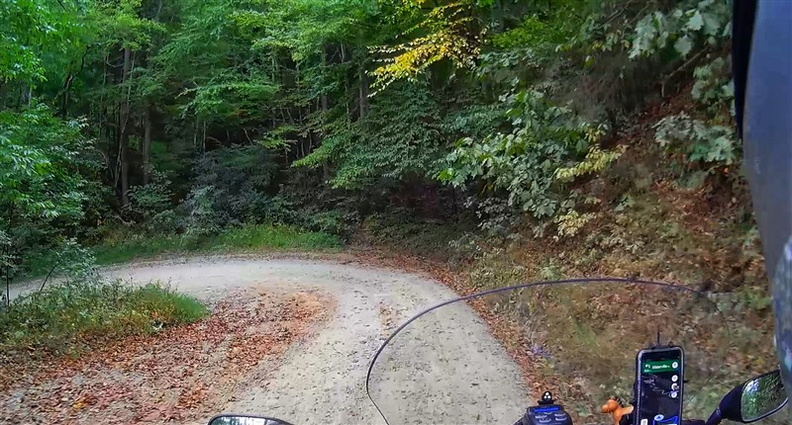 Riding with Tyler. Oh Tyler.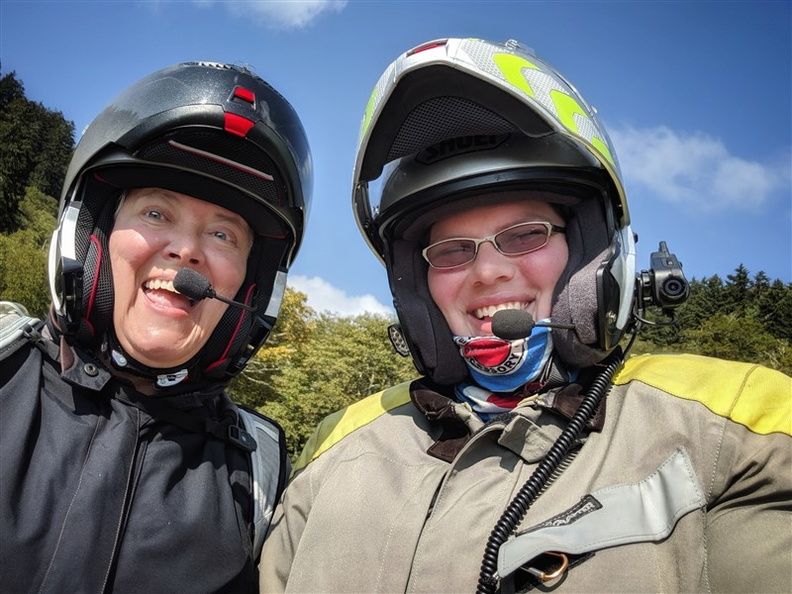 Friday, riding with Rob, Marie, Nate, and Tyler. Blue Ridge Parkway.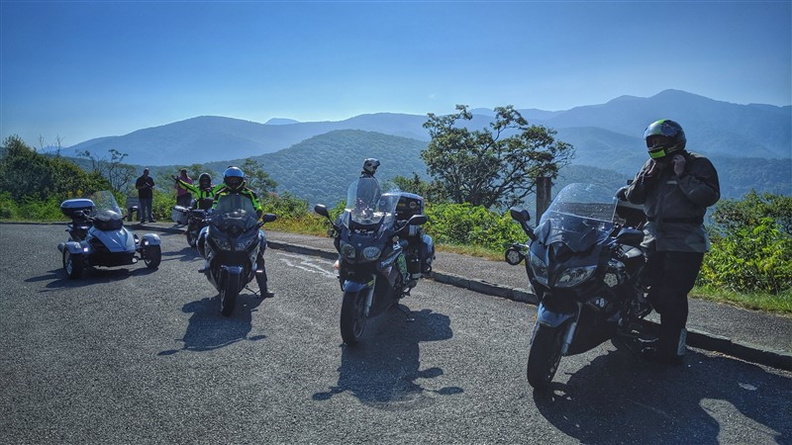 Great Smoky National Park. My favorite pull-off view of a turn.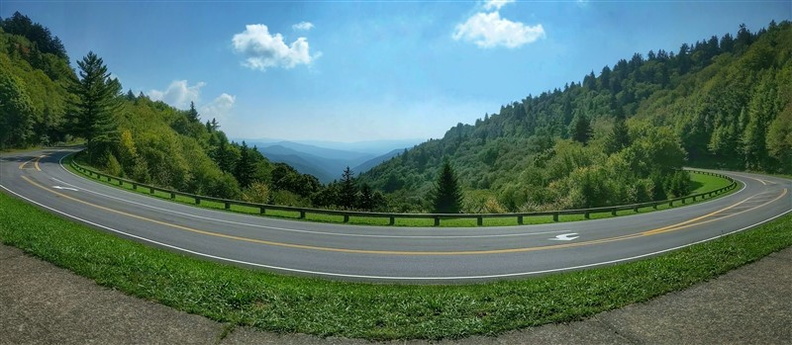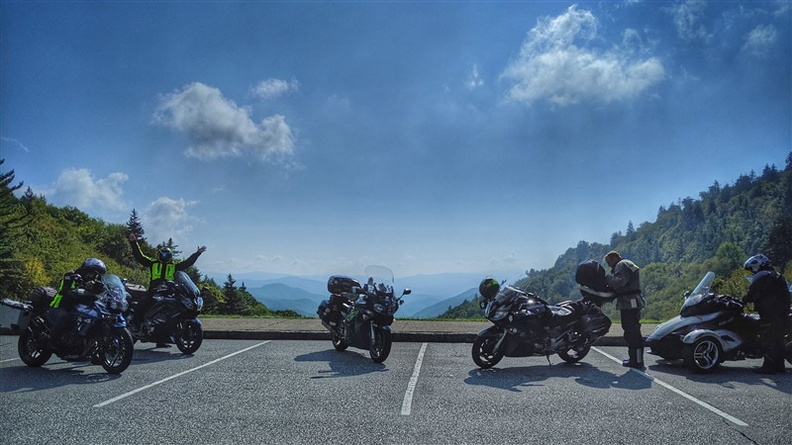 They make riding with people fun. I like them. I think I'll keep them as friends.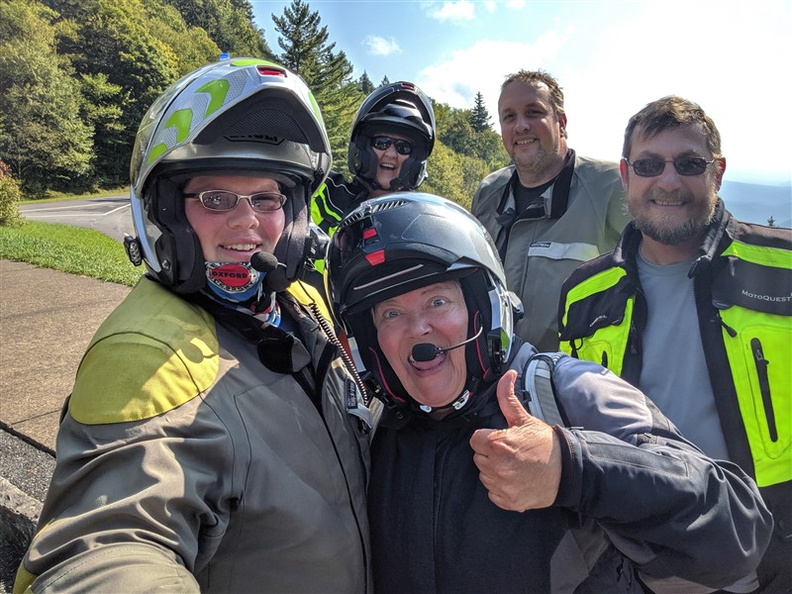 The new section of the Foothills Parkway? Oh hot dang!!!!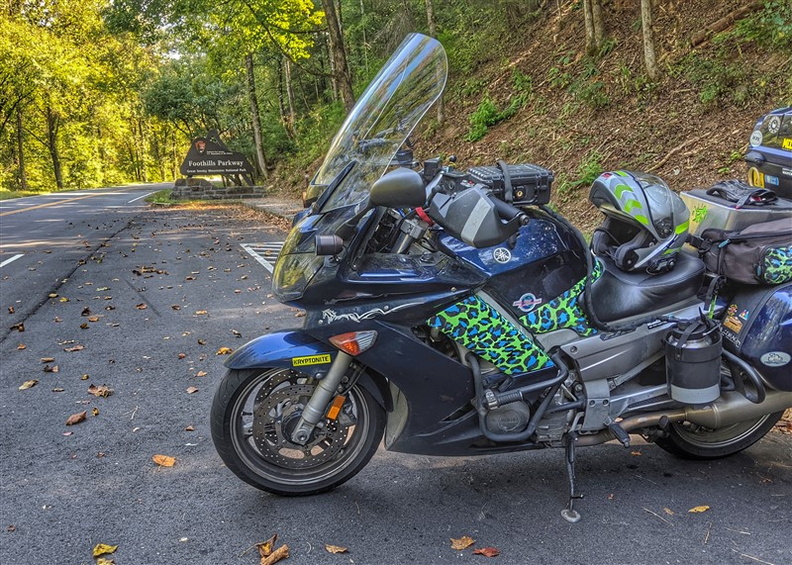 Saturday, leading the ride with another group.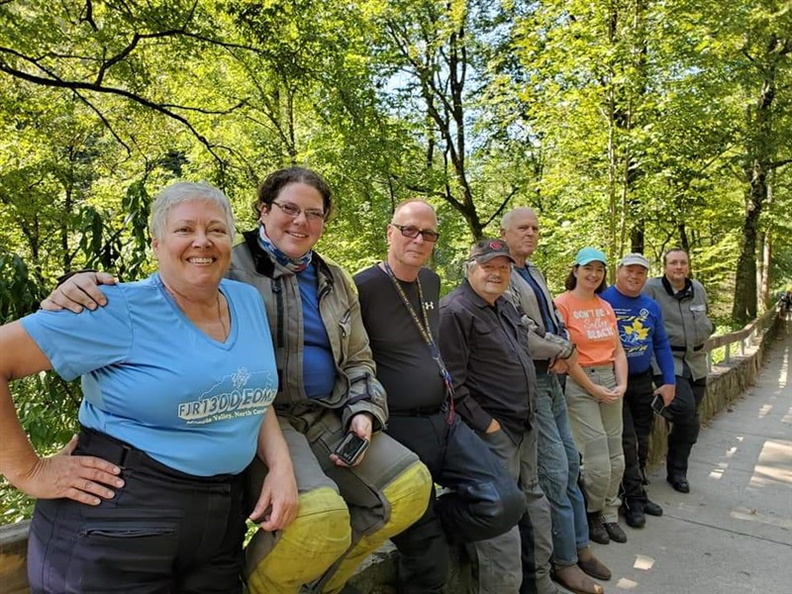 Blue Ridge Parkway, high point.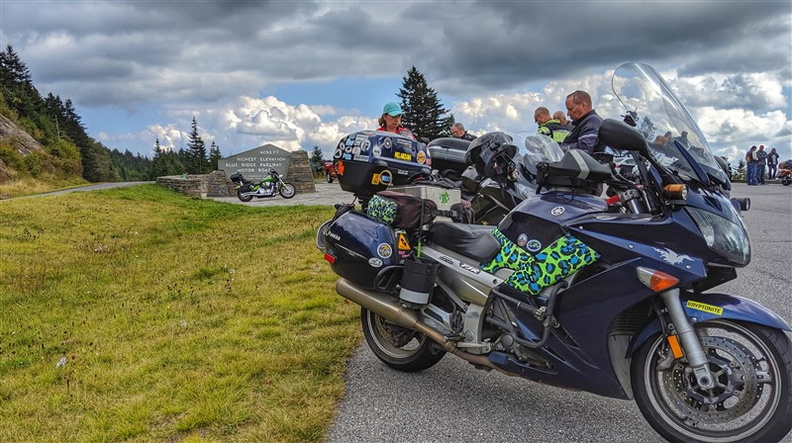 The next weekend, it was tech day in Ohio. And we made it our mission to try to unstick a throttle body screw thingy.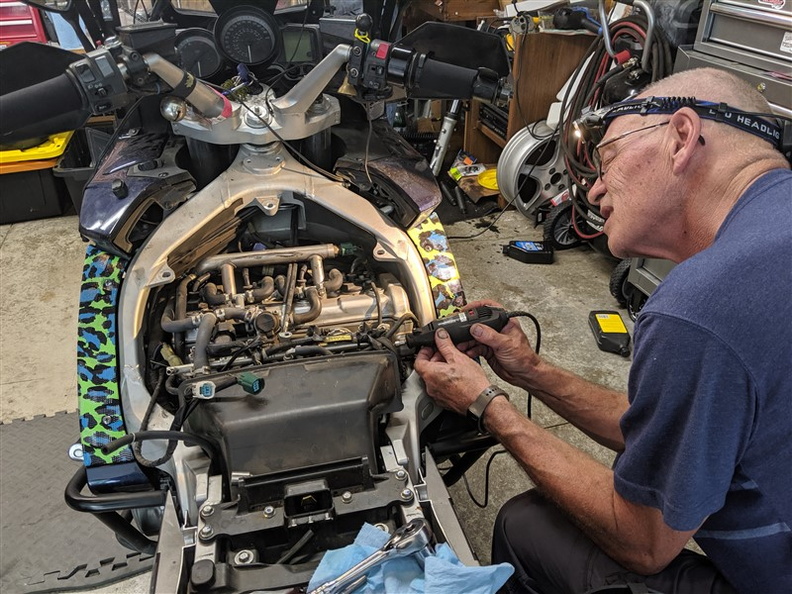 Which resulted in us (ok, them) pulling the whole throttle body off, and swapping it with another.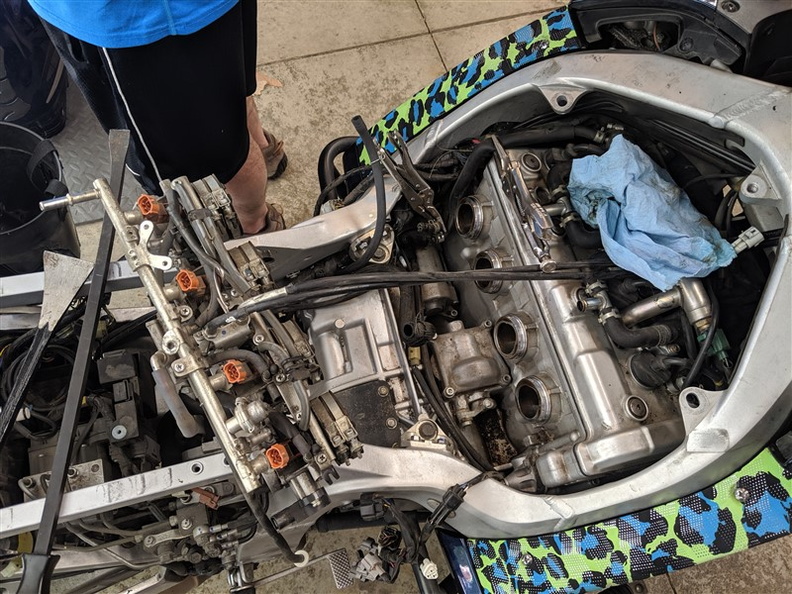 Dad joined me for the tech day. He likes hanging out and wrenching with you guys.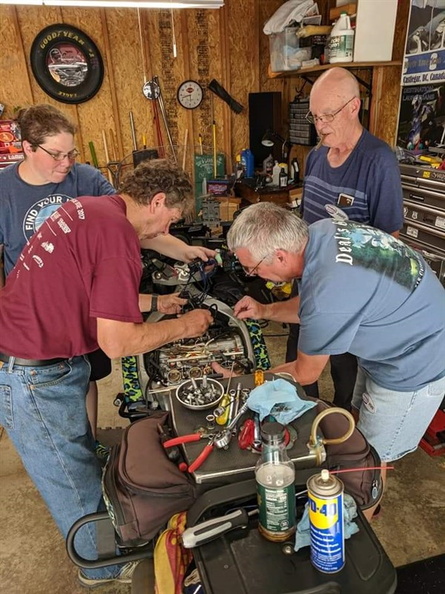 And once the men had my bike back together and working properly and smoothly… I obtained another uncle.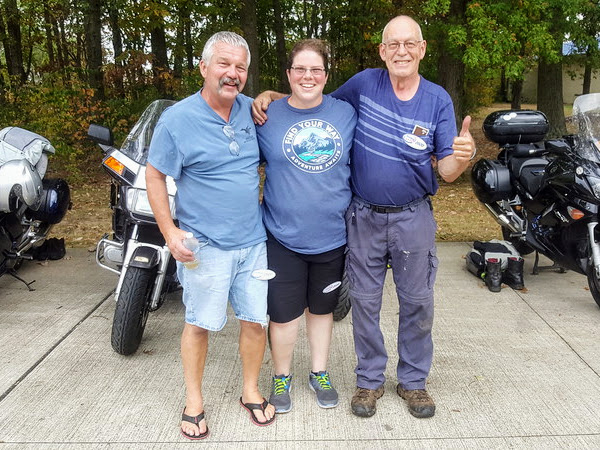 The next day, my dad and I went to the AIM Expo that was taking place in Columbus. And I got to meet Longhaulpaul!!!!! AHHHHHHHH!!!!!!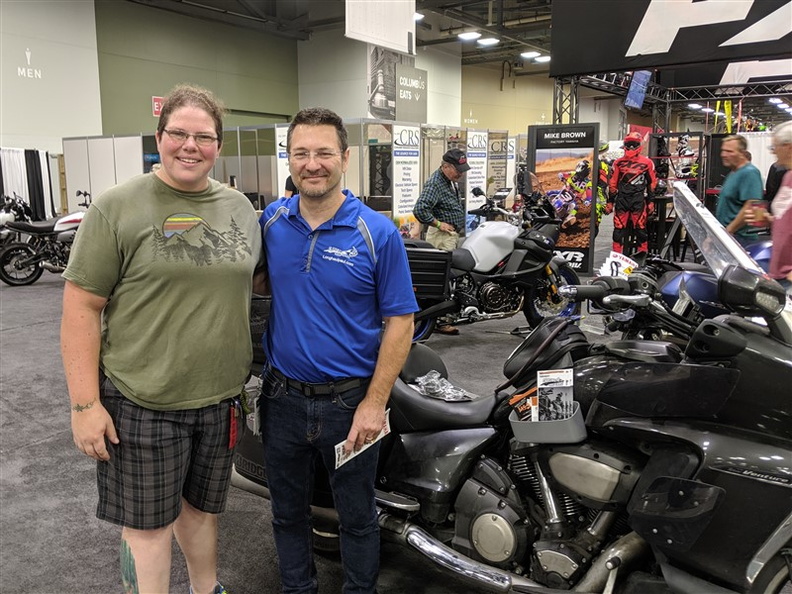 AND WENDY CROCKETT!!!!!! The 2019 Iron Butt Rally Winner!!! The first female to win! And on an FJR!!!! AHHHHHHHHHH!!!!!!!!!!!!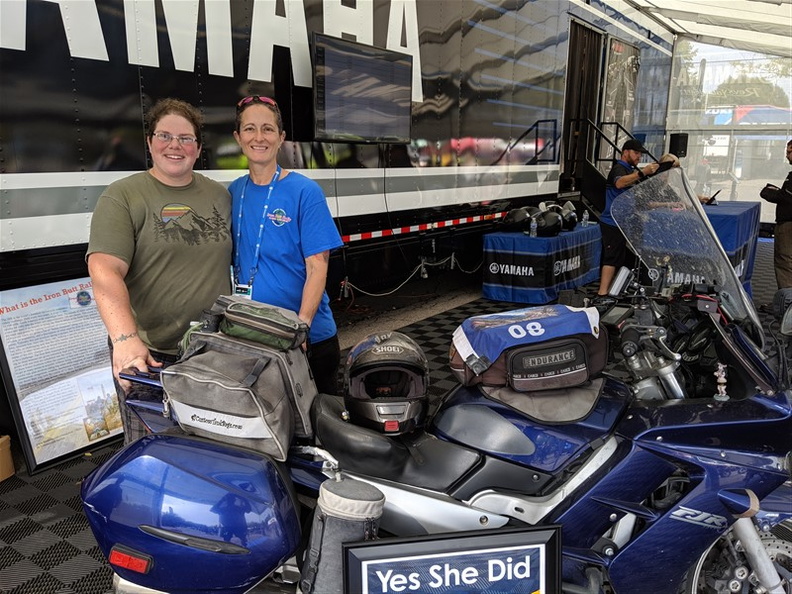 Mid-October, and I rounded up my dad, my uncle, and a family friend to go trail riding in SEOhio with me.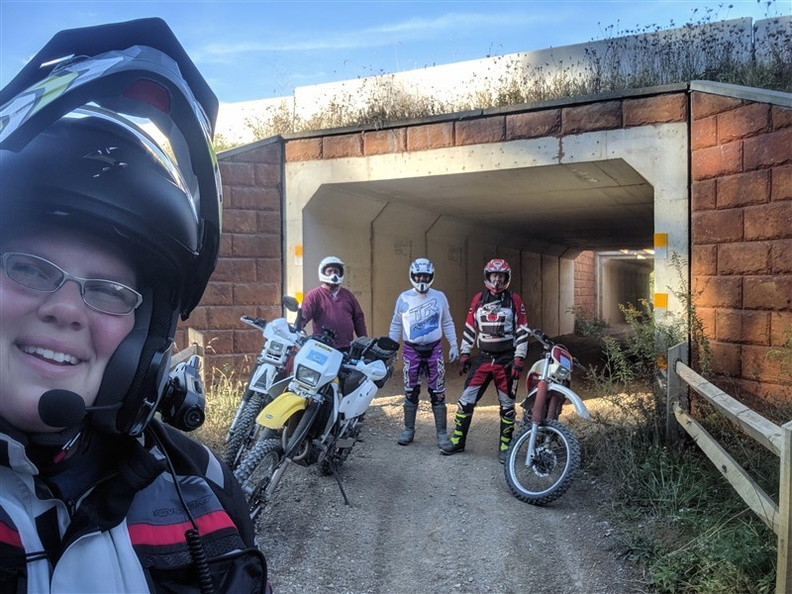 We rode around Wayne National Forest for 3 days.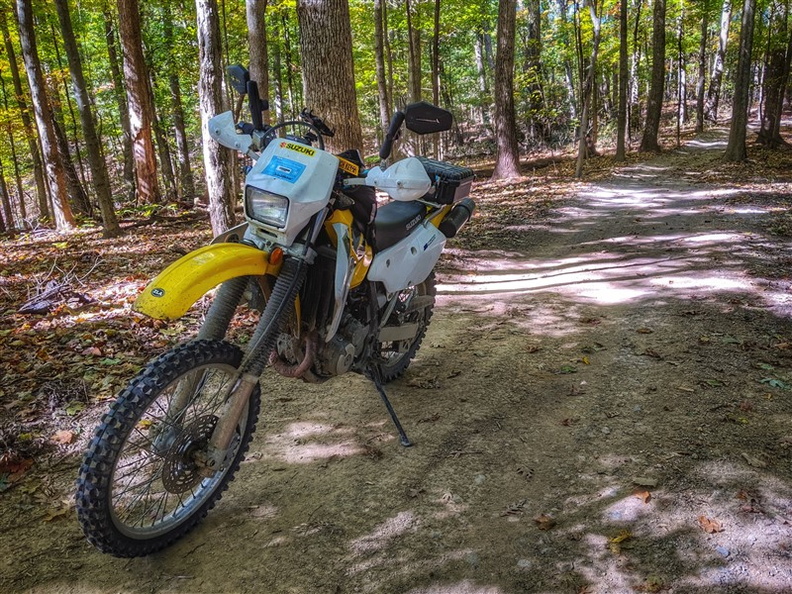 And had an absolute blast of a time doing it!!!!! Loving the DRZ!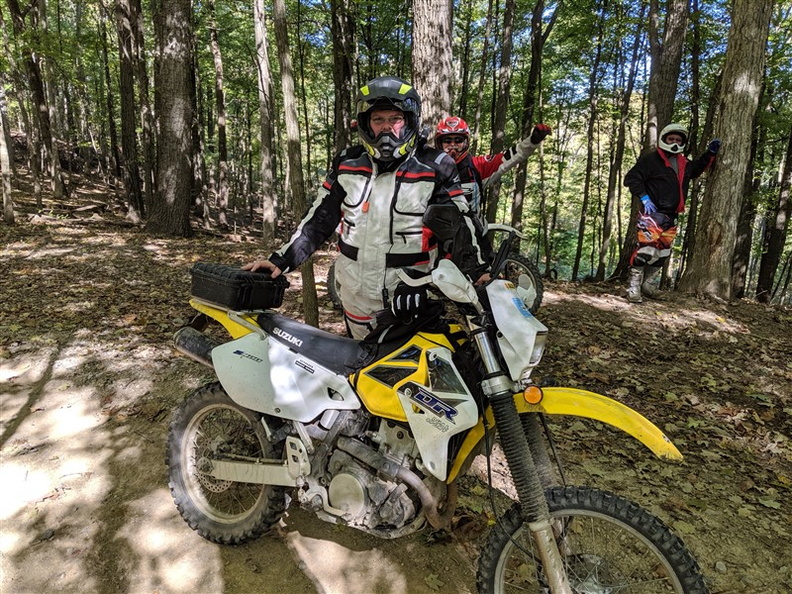 3 men and a baby. (Movie reference, okay?)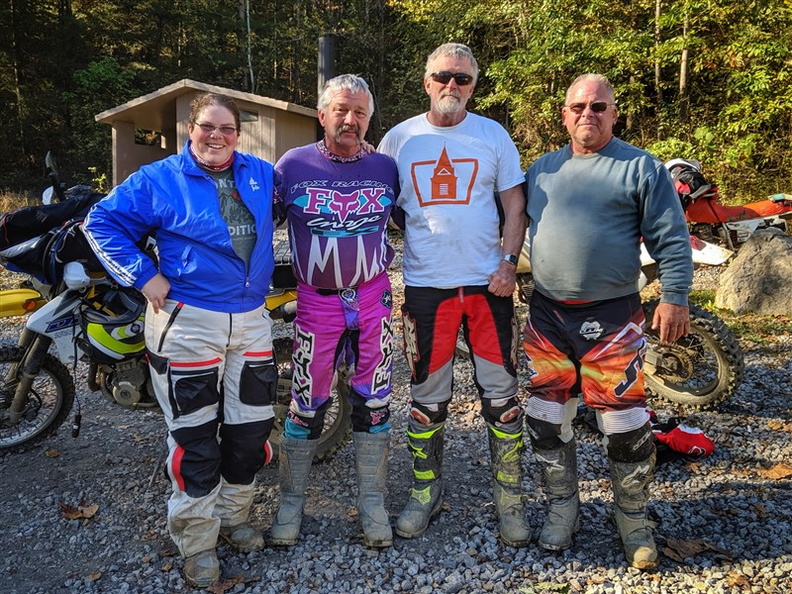 And then I took them to Iron Pony on the way home…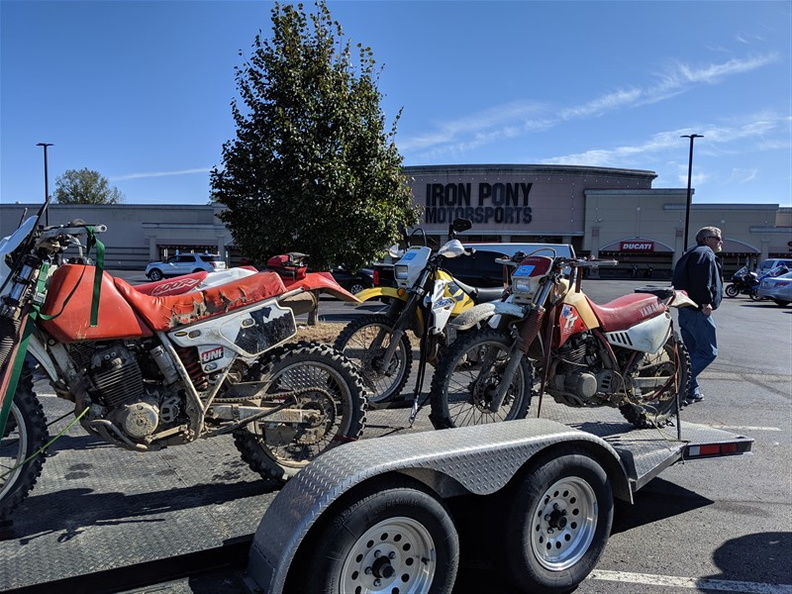 And before the next adventure, I knew I just had to personalize this DRZ somehow…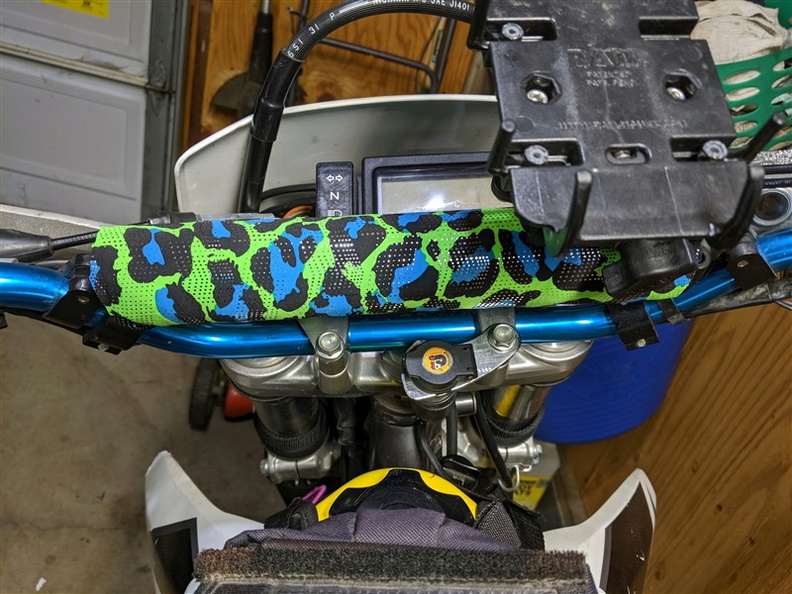 Fall time in Ohio comes in about the end of October…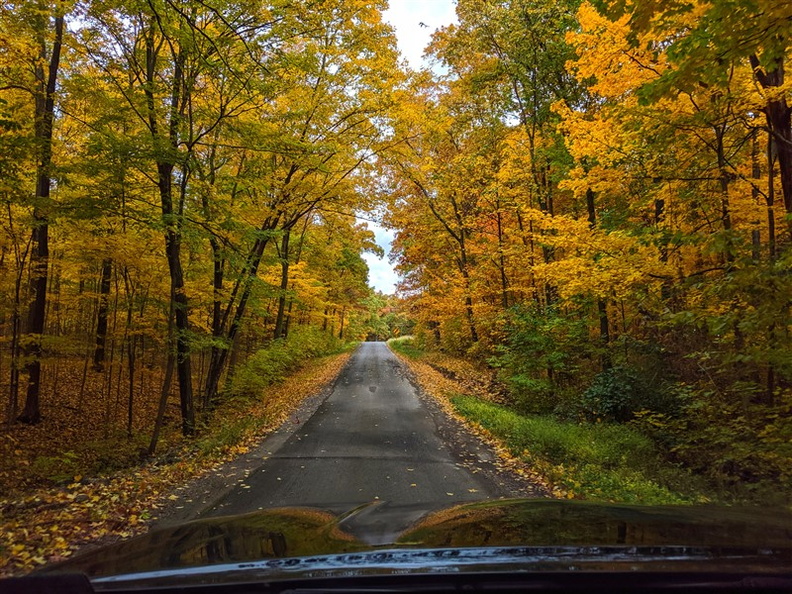 And that's when I headed south to Alabama for SFO!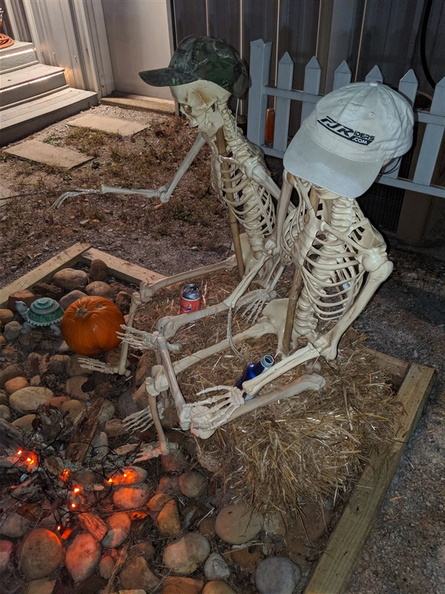 This year, I decided to take the DRZ to do a bit of dual sporting. Hitched a ride on a trailer with a Canadian as he was headed south.
Friday did a bit of riding in the rain with the big boys.
It was wet, but I was still smiling!
Bike is pretty in the misty pines…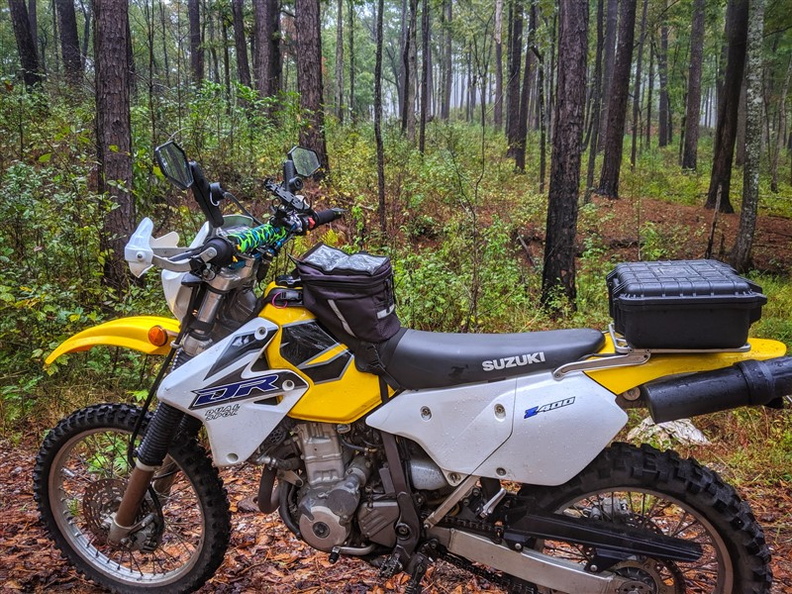 I had brought along some extra fabric, and thanks to a facebook post of Jason daring me to make him a shirt with that material… Tyler and I settled on making him a scarf. Isn't he cute?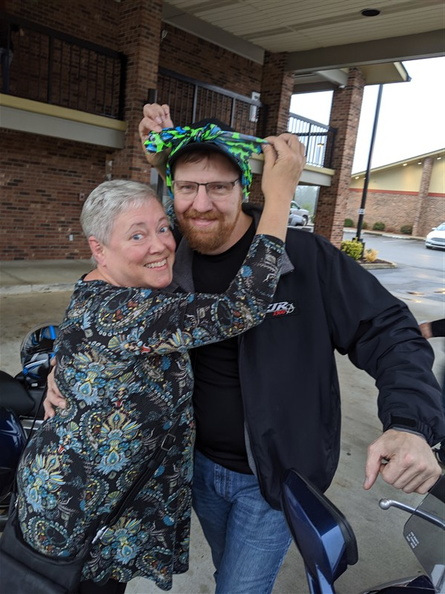 Saturday, while it was raining, jumped in a truck with Redfish, Pops and JWilly and we went to Barber.

That evening… fun ensued…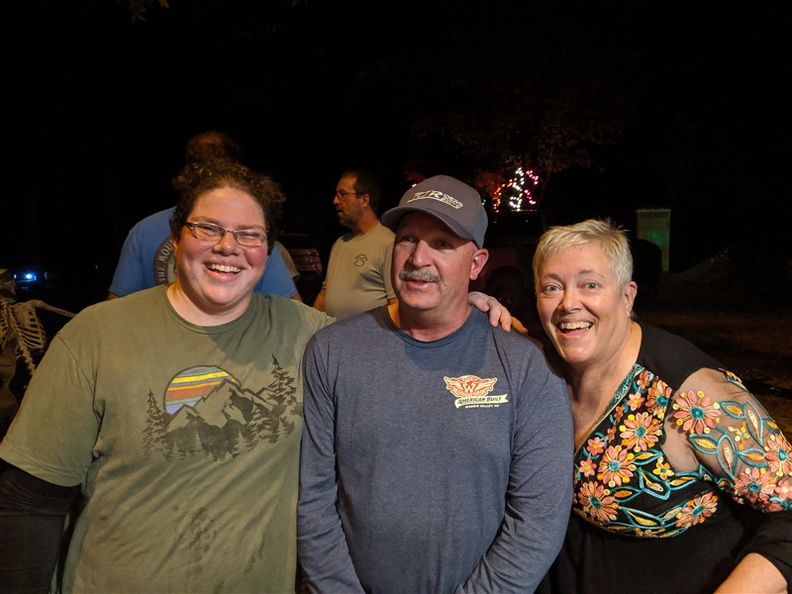 Sunday was dry and beautiful. Luckily the Canadian I came down with nor I had to be home by Monday. So we stayed an extra day to have fun. So I joined up with the group of big boys again and went dual sporting.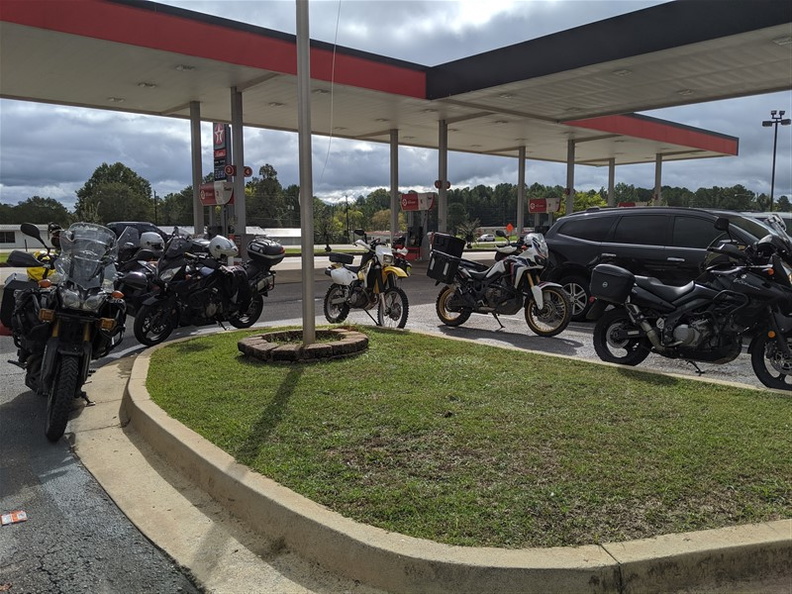 They were finding some good stuff, and I was just along for the ride.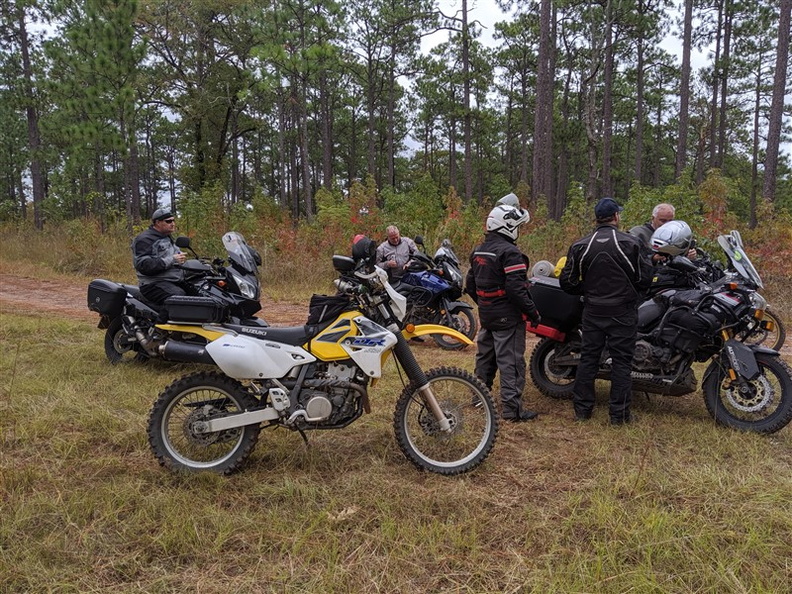 And THAT is why I got the DRZ… and why I am loving the DRZ…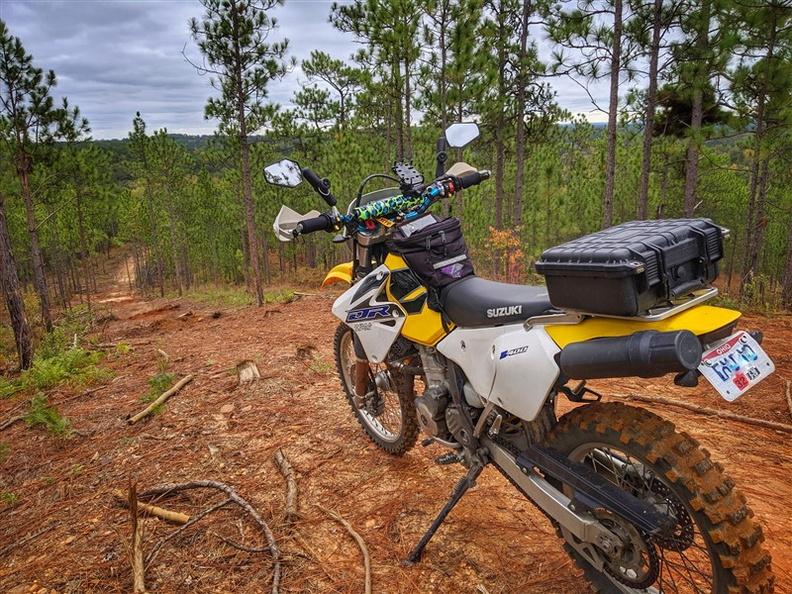 Home from there, and into November. Sunday November 10th, and I go downtown to the Veteran's Day parade with my parents and 2 nephews. Then we went hiking at the state park.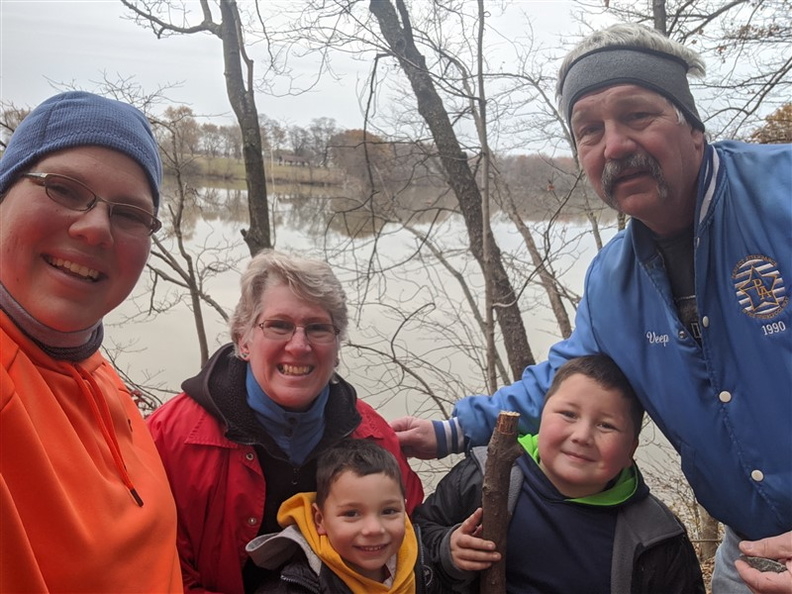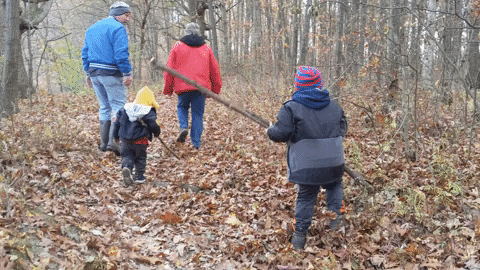 And by the next day, there was 4 inches of snow on the ground. Ugh.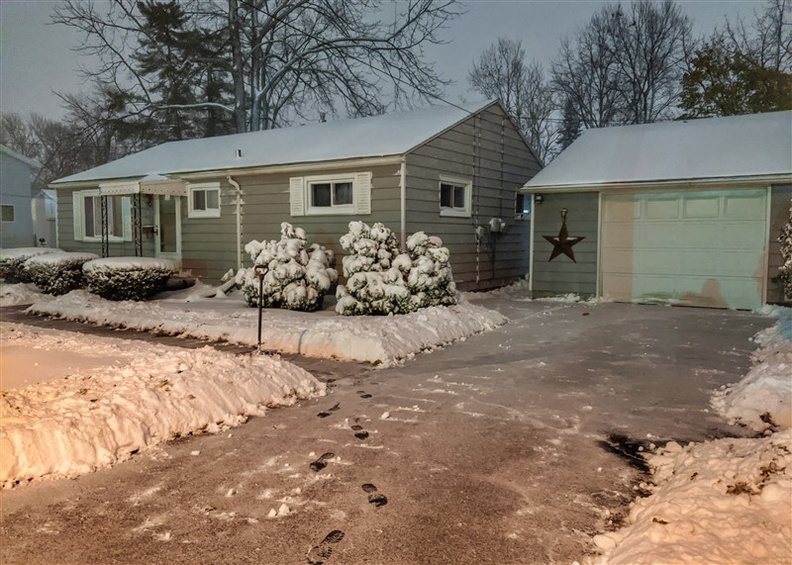 Weekend before Thanksgiving, I talk my dad into going up to Maumee State Park with me to go riding. It's a free area to ride. And I was itching to get off-road again.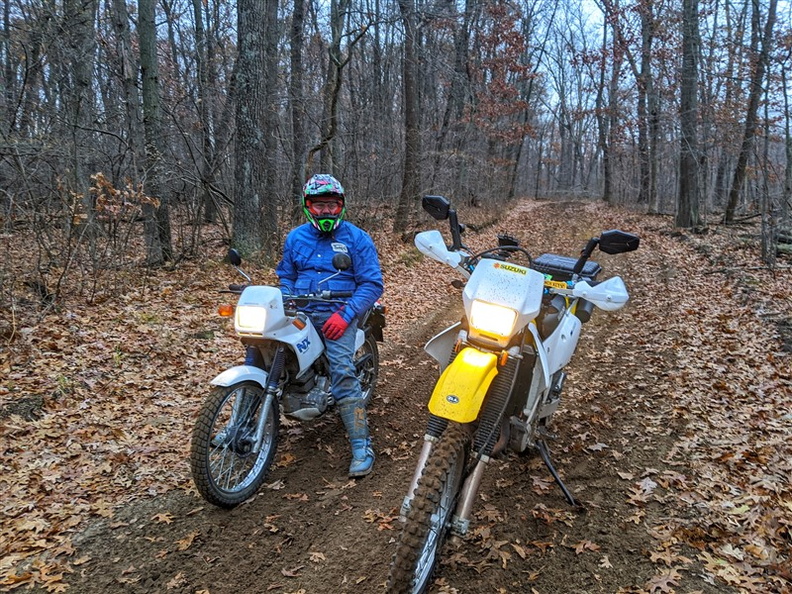 That area is mostly sand, and there is a lot of it!! It was different… but I don't think I would be eager to go back up there anytime soon.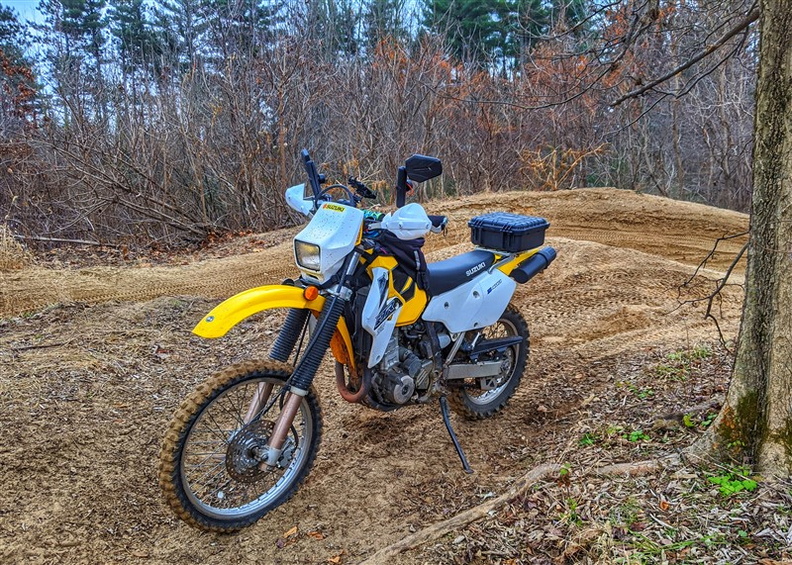 Black Friday, and I pull the FJR out for a ride. First time since tech day at the end of September. I took it for a blast ride, then topped the fuel tanks off, did an oil change, and shoved it into the corner of the garage. It's not going to move again until springtime.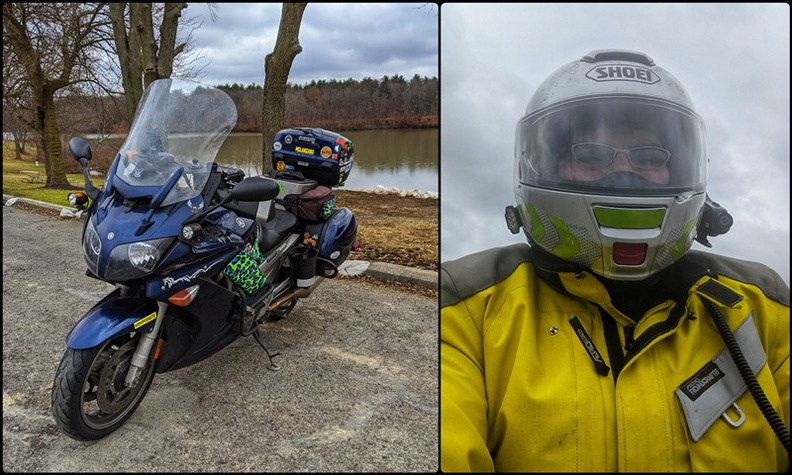 Small Business Saturday, and I get the DRZ out. Meet my mom at the local gourmet popcorn shop for a special purchase…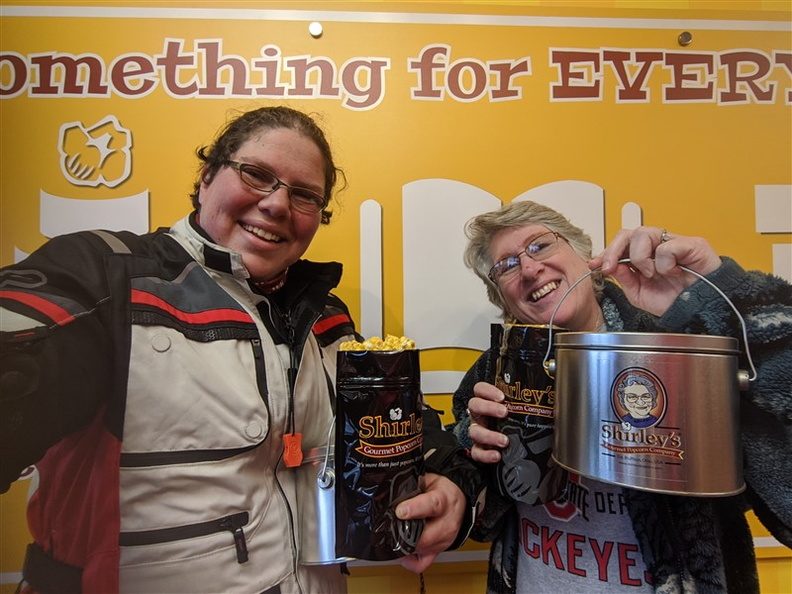 And then up the road to the state park.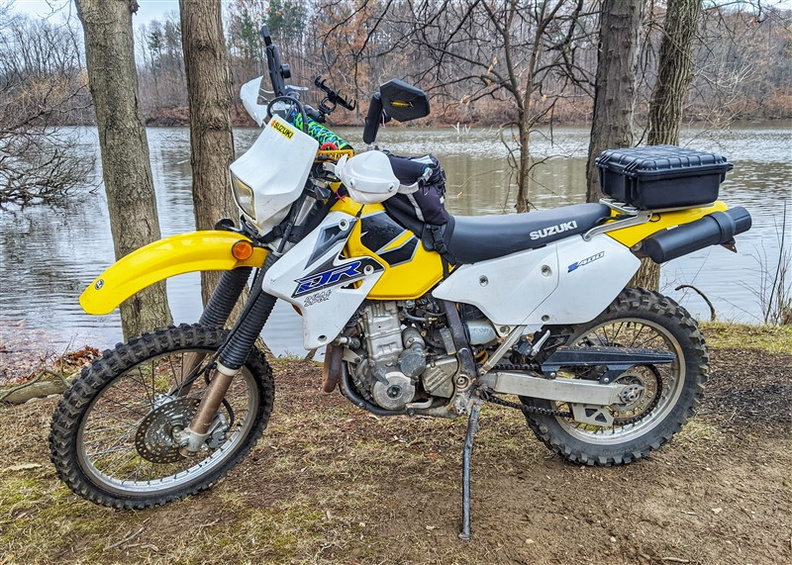 Backed the bike down to the water, set up the tripod, and did a mini photo shoot with it.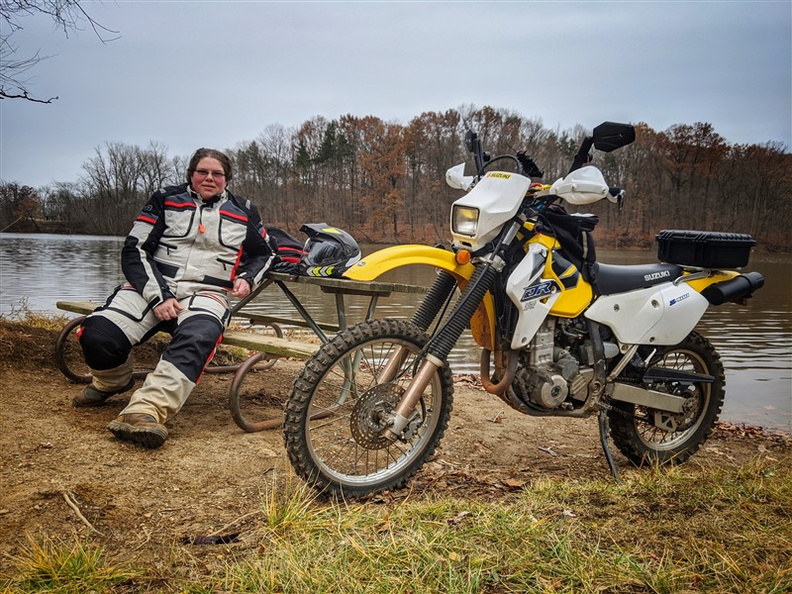 Then it's December, and work is still happening at full force! I am loving my job!!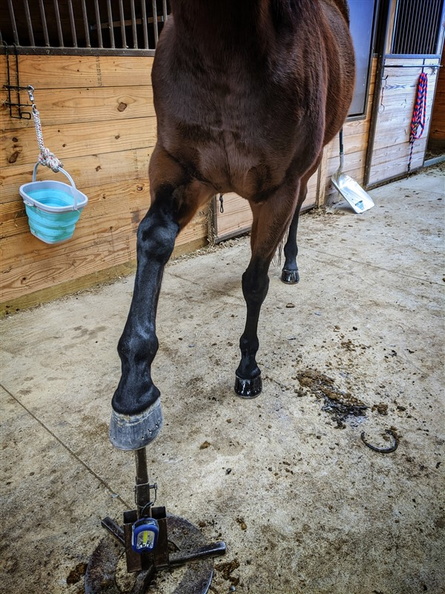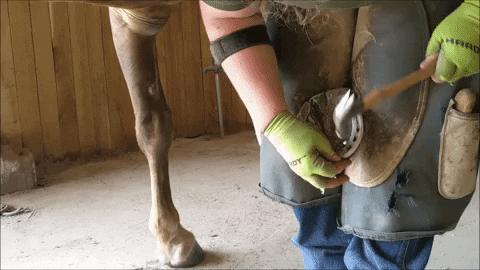 Ordered some stickers online…. And now I have over 200 adventure/outdoor/travel stickers….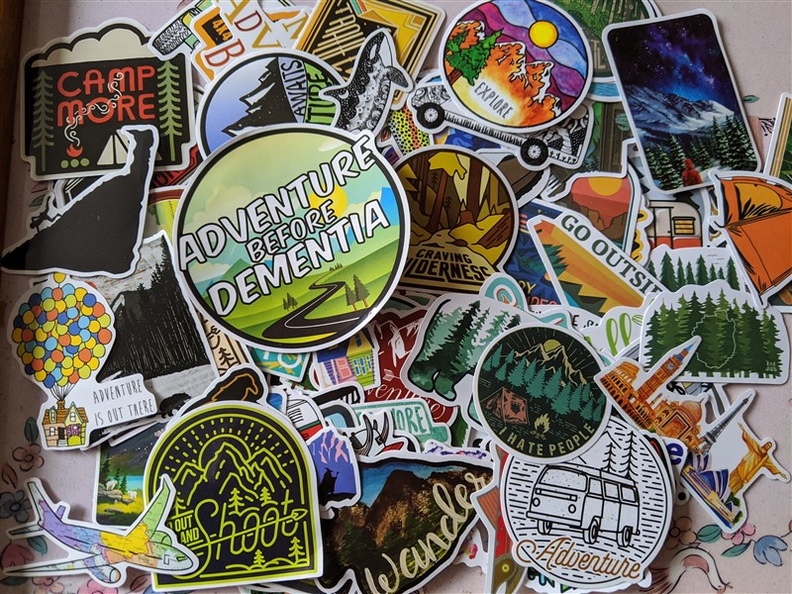 Seemed like most of December was spent like this…
Christmas Day rolls around and it's a beautiful 54*. Dad and I were able to get out on the bikes, this makes the 10th year in a row. Bikes decked out in reindeer gear, and this time on my own bike.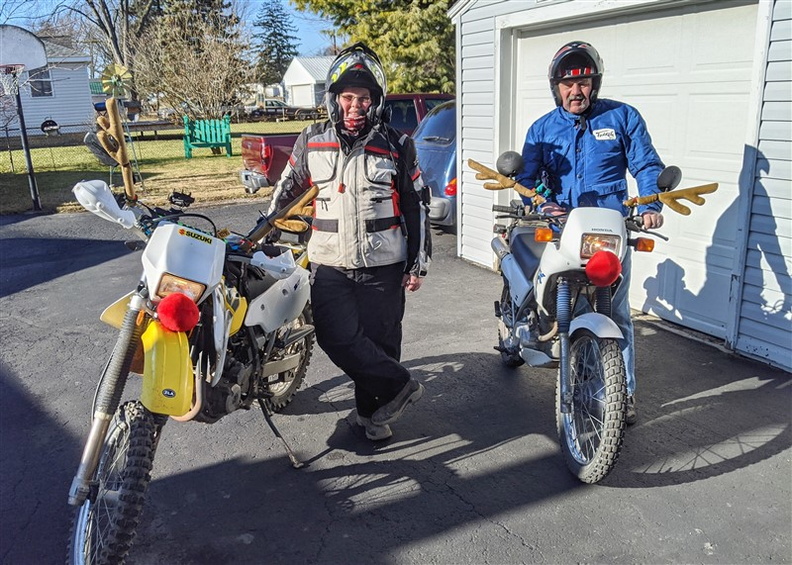 Rode to the downtown city Christmas tree…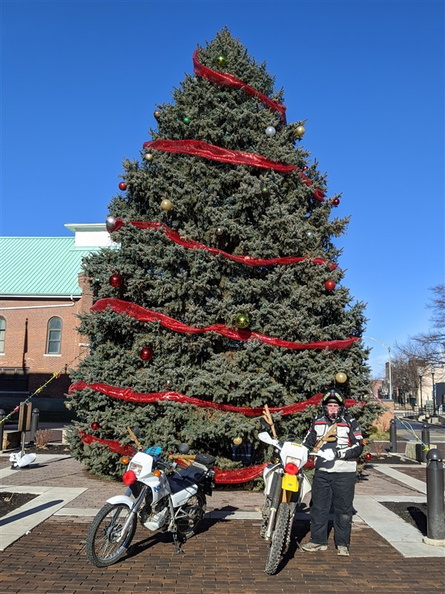 And because the weather was so nice, we spent more time out and about. Went and checked out the stadium pond, which can usually be used as an ice skaing rink when it's cold enough.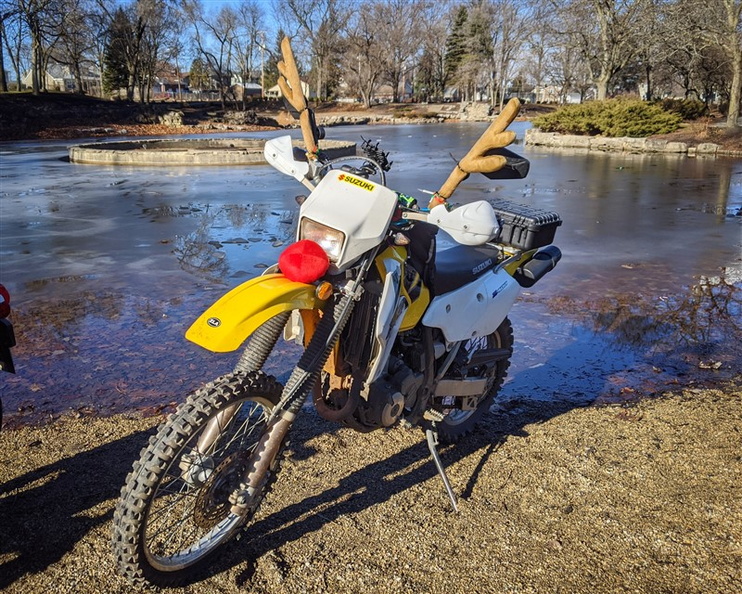 2 days after Christmas, still having beautiful weather, I decide to take the truck and deep-clean it. Pulled out everything from the back. Vacuumed and washed and re-organized. And vacuumed and cleaned the passenger cab also. It's beautiful now. Ready to start the New Year off on a clean and fresh slate.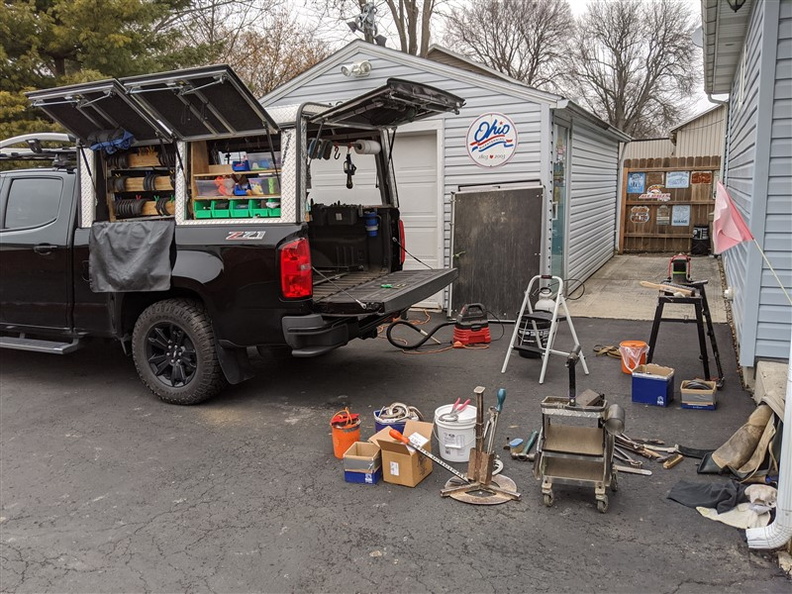 So that pretty much wraps up 2019. It's been a good year.
Spotwalla map
shows just how little I rode this year.
Well crap. I didn't even break 10,000 miles on the FJR this year! That has not happened since I bought the bike…
I guess things have changed in the past year or so, and I've gotten boring with my riding. Sorry.
End of the year stats:
FJR odometer- 110,362...............DRZ odometer- 5,586
FJR miles for 2019- 9,772............DRZ miles for 2019- 1,286
FJR states ridden in 2019- 14........DRZ states ridden in 2019- 2
New states this year- 0
Total states gathered- 45
New stickers- a couple…
Memories- UNLIMITED!!!